Anushka Sharma slams Sunil Gavaskar for shameful comments about her
Bollywood Diva Anushka Sharma has slammed Indian cricket legend Sunil Gavaskar for his shameful comments about her.
Gavaskar's remarks were during an IPL match between Royal Challengers Bangalore (RCB) and Kings XI Punjab (KXIP).
The former Indian captain Sunil Gavaskar criticized Virat Kohli over his poor performance against Kings XI Punjab after the RCB captain dropped two important catches and also got out much early in the game.
In the commentary box, Gavaskar said, "Ab joh lockdown tha to sirf Anushka ki bowling ki practice ki unhone, wo video dekhi hai , usse to kuch nahi hona hai"
"During the recent lockdown he only practiced to Anushka's bowling, I saw a video. But that is not going to be enough."
Reacting to Gavaskar's comment, Anushka Sharma posted on Instagram:
"Mr. Gavaskar your message is distasteful is a fact but I would love for you to explain why you thought of making such a sweeping statement on a wife accusing her for her husband's game? I am sure over the years you have respected the private lives of every cricketer while commentating on the game. "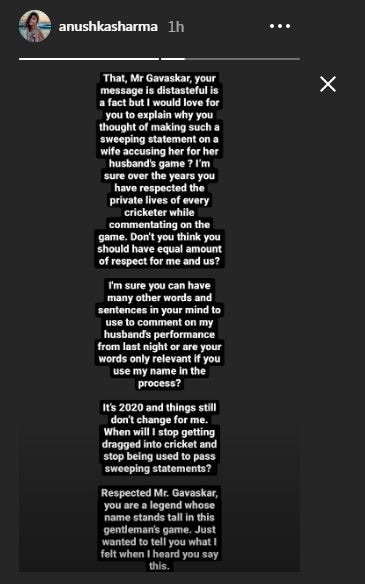 Anushka has seen similar comments in the past as well, she often gets dragged in Virat's cricket career.
The comments by the former Indian cricketer also broke a war on twitter.
Angry fans of Anushka Sharma demanded Board of Cricket Control Indian (BCCI) to look into the matter.
Passing distasteful remarks about Anushka Sharma while sitting in a commentary box should not be overlooked. You can be legend Sunil Gavaskar, but you have no right to drag the families of players in these things that too in such a bizarre manner. Hope @BCCI is looking into it.

— Aakib (@aakib_9594) September 25, 2020
Language & comments by Sunil Gavaskar on Anushka Sharma are extremely disgusting & disappointing

You were a legend sir ! You disrespected an accomplished lady & a great sportsman like Viraṭ too!

— Shehzad Jai Hind (@Shehzad_Ind) September 25, 2020
Kohli Slapped With Fine
On Thursday Royal Challengers Bangalore (RCB) captain Virat Kohli was slapped with a fine of more than $16000 for maintaining a slow over-rate against the King XI Punjab at the Dubai International Stadium.
The Indian Premier League (IPL) 2020 said in its press release, that "As it was his team's first offence of the season under the IPL's Code of Conduct relating to minimum over-rate offenses, Mr. Kohli was fined with $16,281.21 ( INR 12 lakh)," the IPL said in a release.
Kohli dropped two catches of slapcenturion KL Rahul, which proved to be costly, Kohli also could not contribute anything substantial with the willow.
Adsense 300 x 250
---