Khalilur Rehman loses dramas, film contracts over TV debate fiasco
Famous Drama writer Khalil Ur Rehman Qamar has lost four-drama and one film contract two days after he used abusive language against prominent human rights activist Marvi Sirmed on a TV show.
According to the details, Private TV channel said in a statement, that the channel and production house have suspended a four-drama and one film contract with Qamar "until he apologises for using indecent language in a TV show".
Here is the complete statement issued by the channel,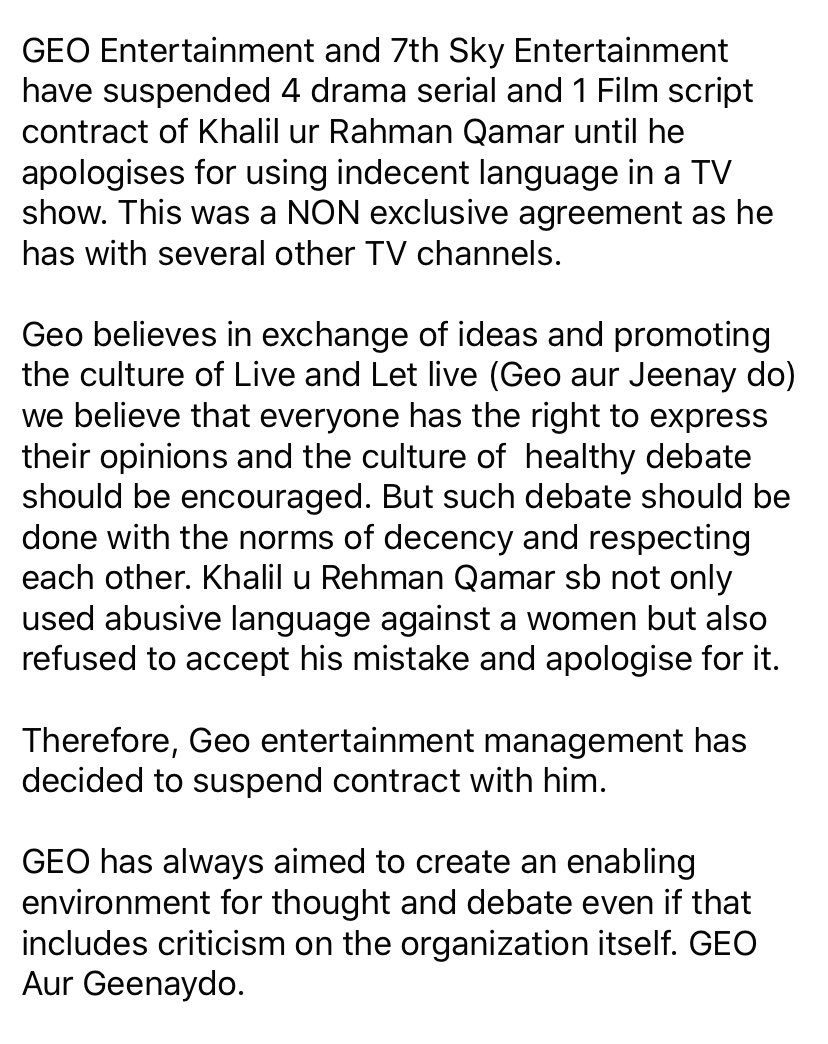 Aurat march is going to be organized soon  in various cities of Pakistan including Lahore, Hyderabad, Karachi and Islamabad, to observe International Women's Day on March 8th.
A huge debate is going on media as well as Social media. Several controversies and arguments were seen and now the famous slogan Mera Jism Meri Mrzi (my body my choice) which wrote on a placard in previously march March came into light again when on air spat mount between Famous writer Khalil-ur-Rehman Qamar and feminist Marvi Sirmed.
Khalil-ur-Rehman Qamar had a discussion around feminism and Aurat March in a talk show.
As we all know about the director's short-tempered behavior, he got into an abusive spat with a participant during the talk show.
At first, Khalil-ur-Rehman Qamar carried on with his bit of conversation before he was interrupted by Marvi Sirmed, a former journalist.
Marvi Sirmed triggered the extremely short-tempered writer with a slogan of the upcoming Aurat March he had previously taken issue with: 'Mera Jisam meri Marzi.'
This harmless little phrase got Khalil-ur-Rehman Qamar all riled up.
After that, he got into a profanity-laced spat with Marvi and used some unacceptable and disgraceful remarks during the LIVE show.
Adsense 300 x 250
---