Bushra Ansari bashes at Lubna Faryad for her cheap reviews about actors
Legendary actress Bushra Ansari's harsh comments about Lubna Faryda has taken the internet by storm.
'Amma TV Aur Main', an online TV show is quite famed because of their drama reviews with some funny Punjabi accent.
Momin Ali Munshi and his mother Lubna Faryad reviews different dramas and they praise as well as criticize the work of actors.
Recently, she reviewed about Zara Noor Abbas and Asma Abbas's acting in drama serial 'Zebaish'. She made fun of their poor acting in the latest review.
However, Bushra Ansari didn't like the review ans she blasted over Lubna Faryad with a harsh reaction.
Bushra Ansari wrote, "What a pathetic time for our dramas..cheap low class person can just comment rubbish stuff abt the hard work n creative efforts of artists. What criteria they ve about this field? I don't get it. Why people are watching such a shallow paindoo style of them… its a sin to destroy people s integrity."
She further added, "This is cheap commentary.. if u don't like any drama don't watch it.. but this is gutter level of commenting on somebody's hard work… actually when people ve nothing to do they get jealous of those who are doing something. Uff jahalat in their mouth is so obvious.. Allah aqal day air ba izzat rozi bhi naseeb kary.. its haram to destroy peoples future.. and make your income.. they are the CORONAS IN OUR LIVES.. ALLH WILL FINISH THEM INSHALLAH."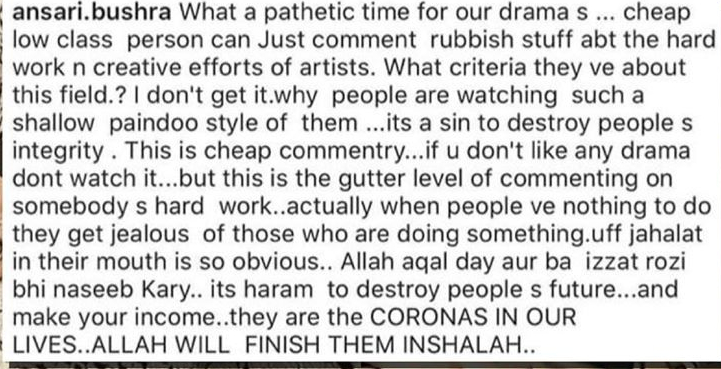 A few hours later, Bushra Ansari had deleted her comment but it went viral like a flood.
Adsense 300 x 250
---