Versatile drama actress Bushra Ansari after being heavily criticized for his harsh comments on Lubna Faryad, has apologized to drama critics and fans for her outburst.
Bushra Ansari was trending on Twitter for all the wrong reasons.
Taking to Instagram to explain herself, Bushra said that when an artist, writer, director or producer work on a project, it becomes a part of them. She said it was "like a child for them that they create with love for their audience." Keeping this in mind, the actor said that it hurts when someone ridicules your hard work. "I believe that everyone has a right to like or dislike our work but language is important," she added.
"I realize that last week, I overreacted and wrote harsh words on Instagram. In a moment, I realized my mistake and deleted it but in the time of social media, it became a tamasha and sadly, spread like fire," she said.
Addressing her fans and the Munshi family, Bushra said that she had no hard feelings for anyone. "I would like to clarify that being a proud Punjabi, I have always enjoyed bringing the colours of Punjabi humour in my roles. It is my mother tongue and some of my best roles are Punjabi characters," she said.
Earlier, some inappropriate and harsh comments by Bushra Ansari had taken the internet by storm.
Momin Ali Munshi and his mother Lubna Faryad in 'Amma TV Aur Main' review different dramas and they praise as well as criticize the work of actors.
So, she had reviewed about Zara Noor Abbas and Asma Abbas's acting in drama serial 'Zebaish'. She made fun of their poor acting in the latest review.
However, Bushra Ansari didn't like the review ans she blasted over Lubna Faryad with a harsh reaction.
Bushra Ansari wrote, "What a pathetic time for our dramas..cheap low class person can just comment rubbish stuff abt the hard work n creative efforts of artists. What criteria they ve about this field? I don't get it. Why people are watching such a shallow paindoo style of them… its a sin to destroy people s integrity."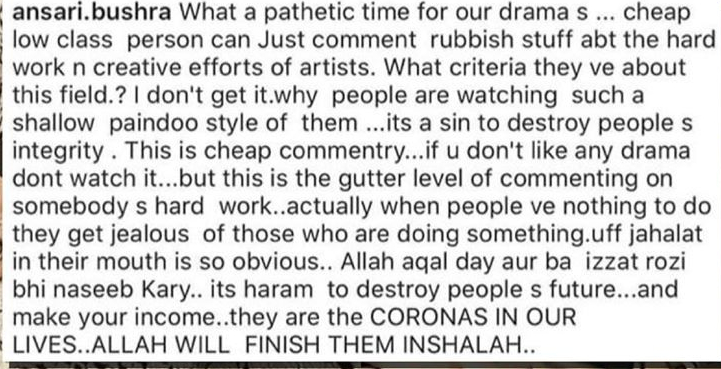 Since then the comment has been deleted. Last week, Faryad also posted a response to Ansari. She said that she was overwhelmed by the love and support of her fans.