TikTok Star Jannat Mirza Looks Astonishing In New Photos
With more than 11 million followers on TikTok, Jannat Mirza has left her fans awestruck as she posted new photos on her Instagram handle.
Jannat Mirza is the first Pakistani TikTok star to hit 11 million followers on a social media platform and is considered one of the most successful and beautiful TikTok stars of Pakistan.
TikTok star can be seen wearing a leopard print jacket, black t-shirt, and black jeans.
Her pictures are making rounds on different social media platforms, as people were mesmerized by her flawless beauty.
Have a look!
Earlier, the national identity card of TikToker Jannat Mirza went viral on social media because of her photograph being a little too perfect.
It is no secret that almost everyone dreads their picture on their ID cards – for some reason, no matter how hard you try, chances of getting an aesthetically pleasing photograph on are pretty less.
But, the TikTok star had nailed her ID card photo.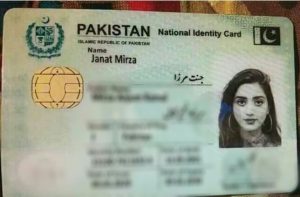 Adsense 300 x 250
---