Did Sanam Saeed Just Mock Hania Aamir For Her Surgeries?
Popular actress Hania Aamir, a few days back, expressed her views about colour shaming and following the hyped beauty standards.
Hania Aamir gets real about skin-colour shaming and unrealistic beauty standards. "When will we stop being insecure about the way we look?," questioned the actress via her Instagram stories.
However, she landed into hot waters after her major blunder as she debated over colorism using the Instagram filter and social media users were quick to point this out.
The filter apparently added rosy shade to her cheeks and also showed false lashes which ultimately resulted in a defeat of the purpose she actually made the video on.
The netizens termed the entire incident a clear 'hypocrisy' and called her out on the double standard,  asked her to first implement what she tried to preach others.
One user wrote, "Your activism feels disingenuous when your actions are not reflective of your words."
The other jumped in and said, "Teach what you preach".
"So ironic, says a girl who just had lip surgery and currently using filters to post about accepting yourself," criticized the other.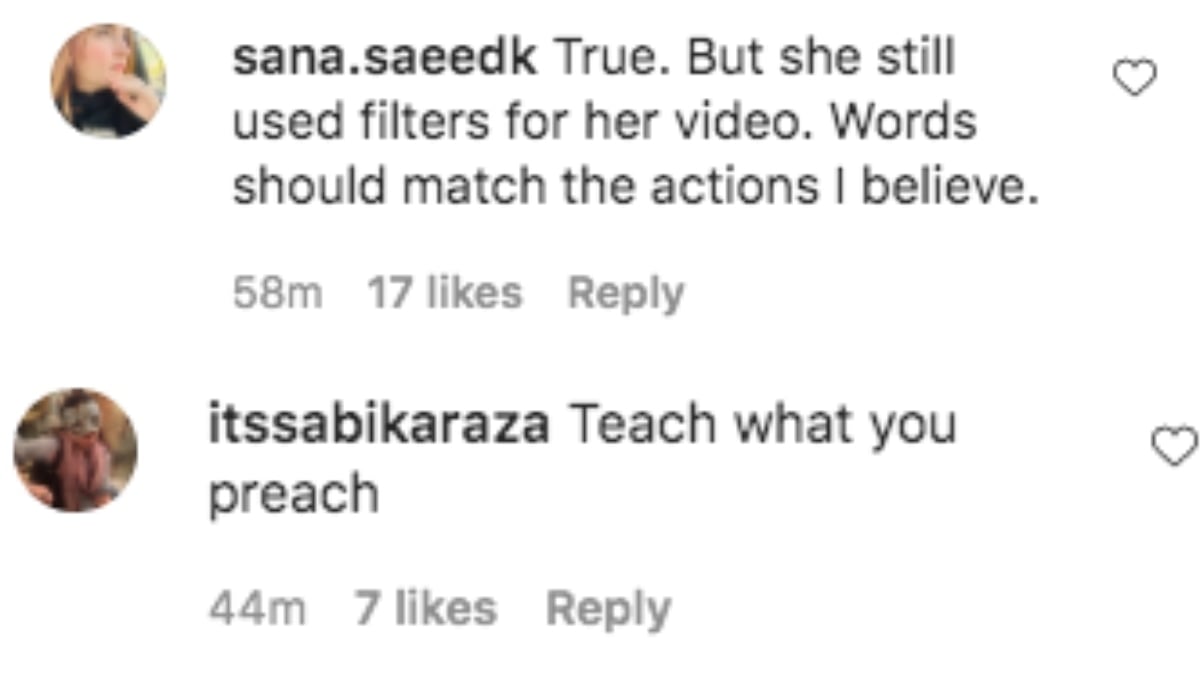 However, Actress Sanam Saeed has reacted to the ongoing debate on beauty standards which indirectly pointed fingers at Aamir.
Saeed took to her Instagram story and seems like she is simply trolling Hania Aamir for her surgeries.
Take A Look:
After the Zindagi Gulzar Hai starlet's hilarious dig, netizens filled in the comments section to mock Hania. They also agreed with the actress and said that she is definitely targeting the one who preached about 'fake beauty standards'.
Have A Look At The Public Reactions:
Adsense 300 x 250
---