Malala Yousafzai shares her favourite TV shows, movies with Insta fam
Nobel Peace Prize winner Malala Yousafzai has on Thursday informed her social media fam about her favourite TV shows she enjoyed watching.
During the Instagram's Q&A session on her Instagram, Malala was asked about the names of her favourite movies to which she replied with the movie names she has recently watched.
"The White Tiger", Wolfwakers and "Soul" are from her current watch list.
Take A Look: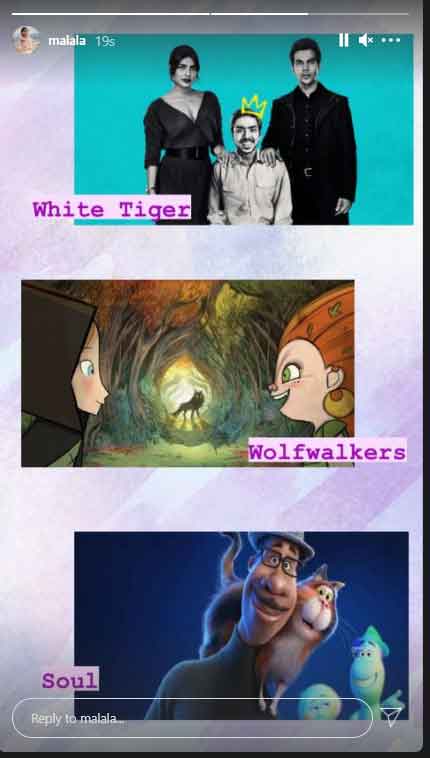 Earlier, Malala had taken to Twitter and expressed concern that the ex-spokesperson of Tehreek-e-Taliban Pakistan is threatening people on social media. She also raised the question about how did he escape.
She was targeted by a bullet in the face as a Taliban gunman opened fire on her she was going back from her school in Swat.
Malala Yousafzai also mentioned in the tweet that the ex-spokesperson had claimed responsibility for the attack.
She wrote, "This is the ex-spokesperson of Tehreek-e-Taliban Pakistan who claims responsibility for the attack on me and many innocent people. He is now threatening people on social media. How did he escape" She also shared the tweet through which she was threatened by the unknown."
This is the ex-spokesperson of Tehrik-i-Taliban Pakistan who claims responsibility for the attack on me and many innocent people. He is now threatening people on social media. How did he escape @OfficialDGISPR @ImranKhanPTI? https://t.co/1RDdZaxprs

— Malala (@Malala) February 16, 2021
Adsense 300 x 250
---