Anushka Unable to Sleep Peacefully as She Cannot Get Over Bachpan ka Pyaar Video
Anushka Sharma recently shared a status on her Instagram about the latest sensation of the quirky song, Bachpan Ka Pyaar. It seems like even the actress cannot get the video out of her head.
Taking to social media, she revealed that Shadev Dirdo, the young boy behind the viral Bachban Ka Pyaar song, is giving her sleepless nights.
She shared a meme on her Instagram stories in which a person is seen lying awake at night because he cannot get the song out of his head. While sharing the meme, Anushka penned laughing emojis.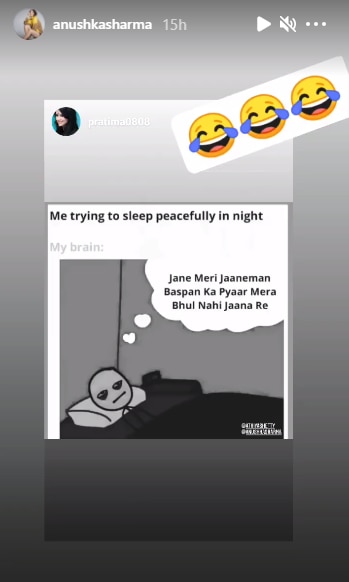 Recently, Chhattisgarh Chief Minister Bhupesh Baghel also met Sahdev Dirdo and congratulated him with a flower garland.
The video was posted by patnahd on Instagram
Anushka Sharma is currently in London with hubby Virat Kohli and Vamika Kohli. She shared some pictures while roaming in the streets of London.
Apart from this, the couple also celebrated their daughter's six-month birthday.
Sharing the adorable pictures, Anushka wrote, "Her one smile can change our whole world around! I hope we can both live up to the love with which you look at us, little one. Happy 6 months to us three."
Adsence 300X250
---