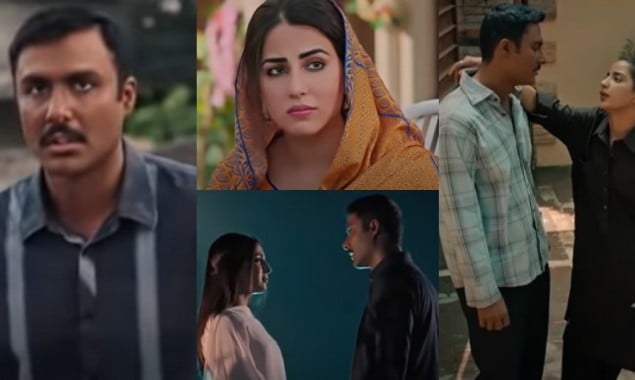 After the super hit serial Raqs-e-Bismil, Hashim Nadeem has geared up for another drama serial, 'Parizaad' starring an impressive cast, which includes Ahmed Ali Akbar, Yumna Zaidi, Noman Aijaz, Ushna Shah, Saboor Aly, Mashal Khan and Urwa Hocane.
Ahmed Ali Akbar appeared as the lead character named "Parizaad". The first episode had few flashbacks just to establish the plot, it started with the birth of a child to a laboring father (Saleem Mairaj), who is not cherishing the moments of his son's birth, while the mother lavishes unconditional love to her newborn. The infant had a dark skin tone, which is ridiculed by everyone except the mother, who named him Parizaad. The narrative picked up speed later in the episode, and Parizaad was now an adult with low self-esteem; he excels in the Urdu language and gives tuitions to nearby students just to assist his family in making the ends meet.
The Laal Kabootar actor did an outstanding job by playing the character of Parizaad. However, there is widespread discontent with the actor chosen for this role. The issue arises as to why, if it was about someone with a darker skin tone, a performer with a naturally dark complexion was not chosen. One can have the answer as the drama progresses and Ahmed Ali proves that no one could comprehend the character and execute it as perfectly as him with his top-notch acting skills. Naheed, the character played by Ushna Shah, was, on the other hand, presented in a novel way. There is not much revealed about the character except that she is a neighbour of Parizaad and belongs to a noble family. She starts getting tuitions from Parizaad as her exams are near.
The episode ended on a tragic note, and we got the hint of how many more difficulties are on the way for Parizaad. Getting accused of someone else's crime has been shown on our screens for a long time, but this time it is combined with other important concerns, making this drama series unique in its own way.
We're looking forward to seeing how the rest of the cast gets introduced and what message each one of them will bring to the table.
Read More News On
End of Article