Watch: Aly Goni congratulates Jasmin Bhasin for her new home
Jasmin Bhasin, an actor and Bigg Boss 14 contestant, has purchased a new home. Aly Goni, her lover, not only praised her but also shared the first photo of the house with her.
Aly Goni shared a photo of Jasmin Bhasin standing in front of her house's main entrance on Instagram Stories.
He wrote, "Congratulations." He also used a sticker that read 'home sweet home'. Jasmin is seen holding on to the door handle in a green top and matching pair of shorts. The door is also adorned with a red ribbon. The identical photo was also uploaded on Jasmin's Instagram Stories.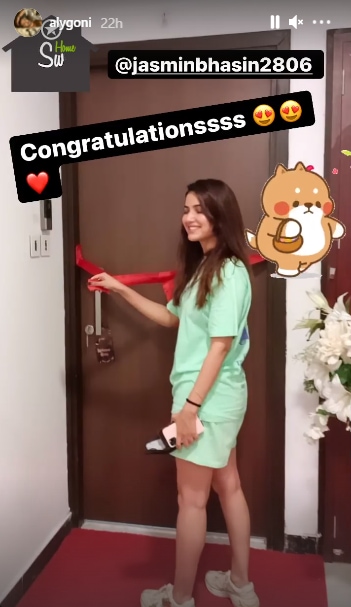 Jasmin and Aly have been friends for a long time, but their romance began following their appearance on Bigg Boss 14 last year.
Aly Goni once said, "It (the relationship) is amazing yaar. Nothing has changed. We were best friends before, and still are. We behave like that only with each other."
He said they have become closer now. He said, "Now, we are more close to each other. And understand each other like before. It feels good that I still have my best friend with me. Even if I am dating her, she will always be my best friend, no matter what."
Adsence 300X250
---