Watch: Farhan Akhtar's girlfriend Shibani gets a name tattooed on her neck
Farhan Akhtar's name has been tattooed on Shibani Dandekar's neck. On her 42nd birthday, she dedicated the tattoo to him.
Shibani Dandekar, an actress and television anchor, got the name of her partner Farhan Akhtar tattooed on her neck as a birthday present. Shibani shared a sneak peek of her new tattoo on Instagram Stories on Friday.
Her face is hidden in the photograph, but the word Farhan is inscribed on the side of her neck. Along with the photo, she commented, "Inked by the best," Shibani also received a tattoo on her hand in another photo.
Mr. K, a tattoo artist, shared the original post, tagging Shibani and Farhan Akhtar. On her 42nd birthday, Shibani dedicated the tattoo to Farhan.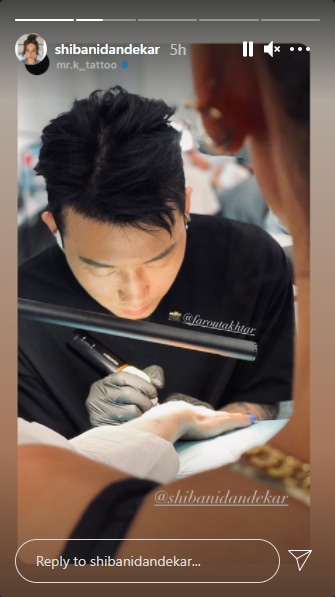 Taking to Instagram on Friday, Farhan Akhtar shared a monochrome picture featuring himself and Shibani. He captioned it, "With all my heart.. happy birthday Shu. Love you. @shibanidandekar"
View this post on Instagram
Adsence 300X250
---