Sanjay Dutt's daughter Trishala reveals her dating disasters 'With all the ghosting'
Trishala Dutt, Sanjay Dutt's daughter, opened up about her dating life and how it isn't working so well. One of her Instagram fans made her a marriage proposal, which she accepted sarcastically.
One of Trishala Dutt's Instagram followers proposed to her, the daughter of actor Sanjay Dutt and his late first wife Richa Sharma. She joked that her dating luck hasn't been great lately, and she replied sure.
Trishala, who works as a psychotherapist, is frequently asked questions about mental health. She opened the floor to inquiries about depression on Monday. However, one of her followers wrote to her, "You never answer my question Ms. Dutt. Will you marry me???"
"I never answer it because it has nothing to do with mental health. And at this point with all the ghosting going on and conversations slowly fading out after first dates from the guys end – why not lol. Happy?"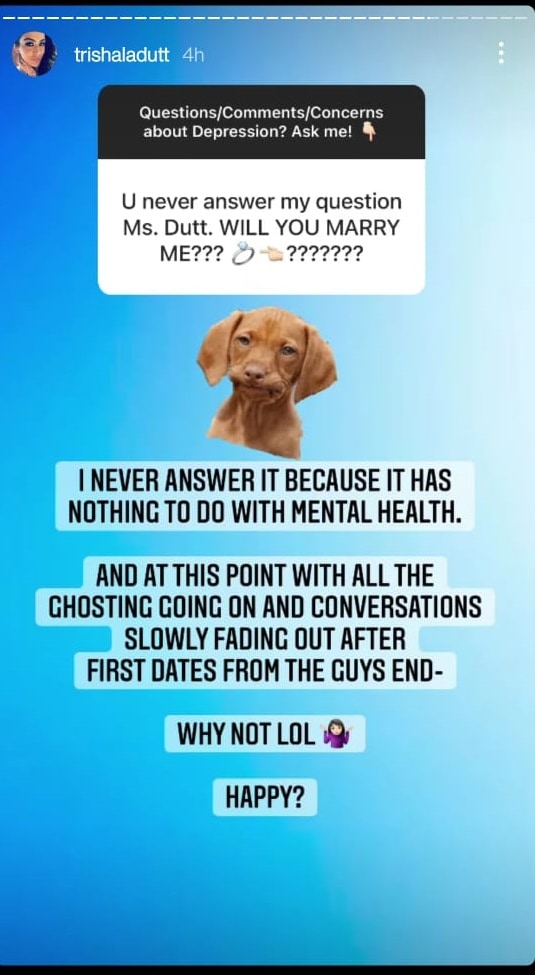 Trishala's boyfriend died in July of this year. She discussed how she sought the support of a grief counselor to cope with his loss during an interactive session on Instagram last year.
"I'm still dealing with it, but I've gotten a lot of help for it (and still getting help for it). Since Covid, my support groups that I've joined have become virtual for now, I see my grief therapist virtually as well, I spend time with my friends and family (while still practising social distancing) and I'm doing a lot of soul searching," she had said.
Adsence 300X250
---