Legendary Indian actress Sridevi, celebrated for her iconic roles in films like "Moondram Pirai," "Chaalbaaz," and "Mom," is remembered on her 60th birth anniversary today. Her sudden passing on February 24, 2018, left the entertainment world and her fans in shock. Survived by her husband Boney Kapoor and daughters Janhvi and Khushi Kapoor, Sridevi's enduring legacy is honored by her family and fans alike.
On this significant day, Boney Kapoor took to Instagram to share a touching tribute. Posting a heartwarming throwback photo, he embraced his late wife, radiating happiness during a vacation. The caption read, "Happy birthday ❤️." The heartfelt gesture resonated deeply with fans, evoking emotional responses and admiration for the couple's enduring love.
View this post on Instagram
In tandem with the family's remembrance, Google paid homage to Sridevi through an artistic doodle that celebrated her illustrious career. The doodle was shared by Boney Kapoor on his Instagram Stories, further commemorating the actress's profound impact.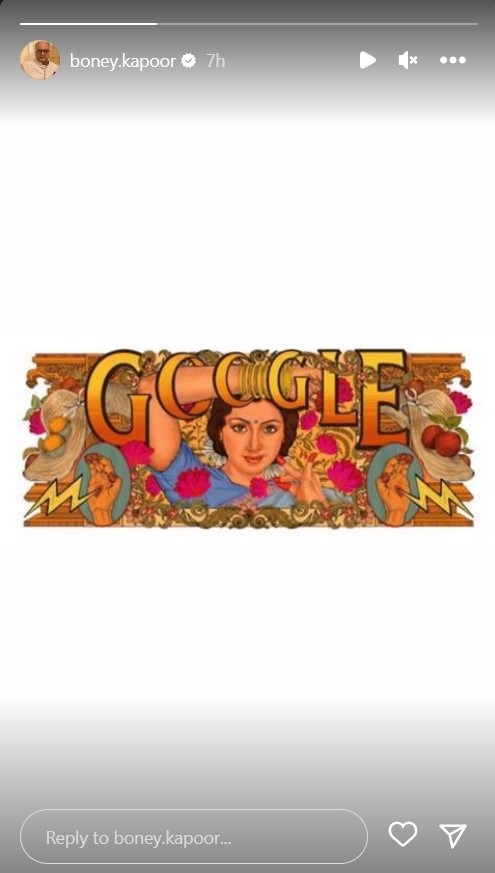 As the Kapoor family cherishes precious memories, this year holds additional significance with the forthcoming launch of Sridevi's autobiography, "Sridevi – The Life Of A Legend," penned by Boney Kapoor. The captivating journey of the iconic star continues to touch hearts, inspiring generations with her timeless contributions to Indian cinema.
Also Read
To stay informed about current events, please like our Facebook page https://www.facebook.com/BOLUrduNews/.
Follow us on Twitter https://twitter.com/bolnewsurdu01 and stay updated with the latest news.
Subscribe to our YouTube channel https://bit.ly/3Tv8a3P to watch news from Pakistan and around the world.
Advertisement
Read More News On
End of Article