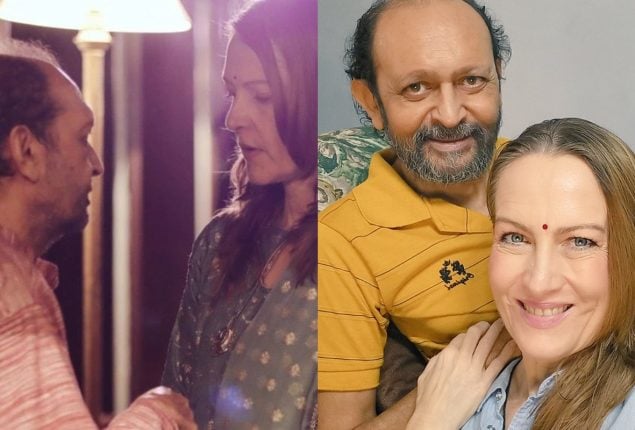 Bollywood was shocked by the unexpected passing of the actor Akhil Mishra.
Akhil was known for his role as librarian Dubey ji in the film "3 Idiots.
Akhil graced both the silver screen and television with his talents.
The film industry was deeply shocked by the unexpected passing of the renowned actor Akhil Mishra, best known for his role as librarian Dubey ji in the 2009 film "3 Idiots." Mishra, aged 58, left this world on September 21. In a heartrending Instagram post, his wife, actress Suzanne Bernert, expressed her grief over her husband's demise.
On September 22, Suzanne Bernert took to Instagram to share a poignant message as she remembered her late husband, Akhil Mishra. Accompanied by a cherished photo with him, she captioned it with, "This was us (heartbreaking emoji) always engaging with each other, talking, many times just by a glance… You were Myme, and I was yours (red-heart emoji). I am overwhelmed by all the love pouring out, and I hope your love guides his soul forward to where it is destined… like a wave… I want to thank everyone here for all the messages. Please understand that I can't respond to all of them (as you know me for), but rest assured, I am reading the comments and drawing strength from that love and support. Usually, I would show this post to @akhillmishraa to ask for his opinion… something to add or clarify… but now I can't anymore…"
View this post on Instagram
According to a report, Akhil Mishra was in the midst of cooking when he tragically slipped. He had been in Hyderabad with his wife, German actress Suzanne Bernert, for a shoot. Upon learning of her husband's untimely demise, she hurried back home and was quoted as saying, "My heart is broken, my second half is gone."
Akhil Mishra, a celebrated actor, graced both the silver screen and television with his talents. He is fondly remembered for his portrayal of Librarian Dubey in Aamir Khan's "3 Idiots" and Umed Singh Bundel in the TV series "Uttaran." His filmography also includes notable works such as "Don," "Well Done Abba," "Hazaaron Khwaishein Aisi," "Bhopal: A Prayer For Rain," "Gandhi My Father," among others. He was a familiar face on television shows like "Uttaran," "Udaan," "CID," "Shrimaan Shrimati," "Bharat Ek Khoj," "Rajani," "Princess Dollie Aur Uska Magic Bag," "Pardes Mein Mila Koi Apna," and more.
Akhil Mishra was previously married to Manju Mishra, who passed away in 1997. Later, he tied the knot with Suzanne Bernert on February 3, 2009, and the couple held a traditional ceremony in September 2011. They collaborated on projects such as the movies "Kram" and the TV serial "Mera Dil Deewana." Additionally, they worked together on a short film titled "Majnu Ki Juliet," a project penned and directed by the late actor himself.
Also Read
To stay informed about current events, please like our Facebook page https://www.facebook.com/BOLUrduNews/.
Advertisement
Read More News On
End of Article