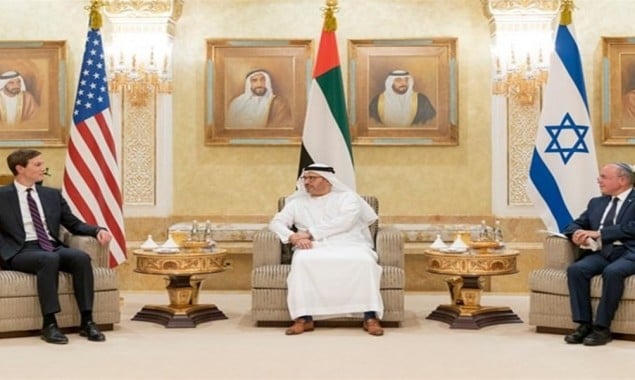 A delegation of businessmen led by the head of Israel's largest bank has arrived in the United Arab Emirates to establish trade relations.
A short delegation of high-tech, financial technology and industry figures led by Dov Kotler, head of the Israeli bank Hapoalim, is making his first business visit the United Arab Emirates.
It should be noted that Israel and the United Arab Emirates had announced an agreement to establish relations on August 13, after which an Israeli delegation, including the US President's aides, visited the United Arab Emirates.
During the visit of the Israeli and American delegations, relations in various fields were discussed.
The head of the Israeli bank called the first business trip to the UAE a first step and a milestone for broad future prospects.
"We believe that direct and discreet communication with heads of the banking systems and economic figures can enable direct business," he told the media before leaving for Dubai on a private plane.
He said the delegation was looking for new avenues in view of the global economic slowdown caused by the coronavirus.
A spokesman for the Israeli Bank said that in the first leg of the two-day visit, the delegation would meet with bankers and business leaders in Dubai, after which it would travel to Abu Dhabi.
According to the report, another delegation led by the head of Israel's Bank Leumi will visit the United Arab Emirates on September 14.
An Israeli government official said a delegation from the United Arab Emirates had also been invited by the government, but no date had been set.
The UAE announced last month that it would establish relations with Israel, making it the first and third Arab country in the Gulf to have relations with Israel.
It may be recalled that on August 13, the UAE announced the establishment of friendly relations with Israel, after which it has faced severe criticism from Muslim countries, especially Iran and Turkey.
Also Read
Later, the Israeli and US delegations arrived in the UAE for the first time on an Israeli commercial flight.
Before the formal start of the talks, the US and Israeli delegations reached Abu Dhabi, the capital of the United Arab Emirates, via a commercial flight from Tel Aviv via Saudi territory, marking a new chapter in the history of aviation.
The plane was headed by Jared Kushner, a senior adviser to US President Donald Trump and son-in-law, and Robert O'Brien, a national security adviser, while the Israeli delegation was led by O'Brien's counterpart Mir Ben Shabat.
On the other hand, Benjamin Netanyahu had said that in addition to the US-brokered agreement with the United Arab Emirates, secret talks are underway with several Arab states to establish relations with Israel.
He said secret meetings were being held with Arab and Muslim leaders to normalize relations with the Israeli state.
Advertisement
Read More News On
End of Article