Twitter Freezes Khamenei's Account For Giving 'Death Threat' To Trump
Iran's Supreme Leader Ayatollah Khamenei's Twitter account has been suspended following a "threatening" tweet about the former US President Donald Trump.
According to reports, Twitter has suspended the Twitter account of Ayatollah Khamenei from which the alleged threatening tweet was posted and said that this tweet violated the rules and regulations of using social media platforms.
Ayatollah Khamenei posted a picture of a man playing golf from his Twitter account @khamenei_site, which looks like Donald Trump as Trump is often seen playing golf.
The same picture shows a giant shadow on a golfer, possibly a warship or a drone.
With this picture, Ayatollah Khamenei wrote, "Revenge is inevitable."
Khamenei also reiterated his commitment to take revenge on Donald Trump. It should be noted that the United States had targeted the vehicle of General Qassem Soleimani, the commander of the Iranian Quds Force, in Baghdad, Iraq, on January 3 last year, in which General Qassem and his associates were killed.
"The person who ordered the murder while Qasim Soleimani's shoes are more honourable than the killer and we will take revenge for this one mistake," the Tweet added.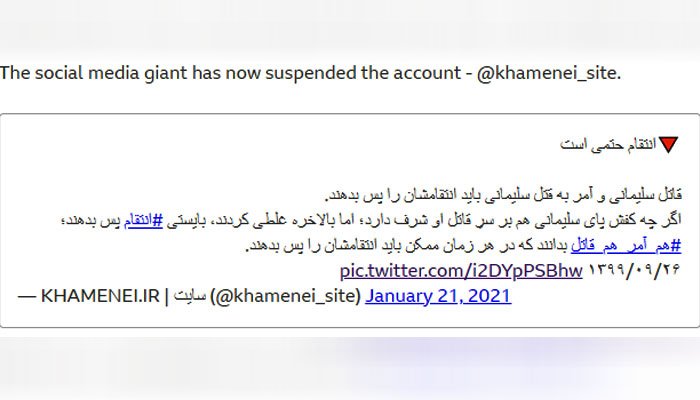 The Persian-language tweet was later removed and Ayatollah Khamenei's account was suspended, but his official account and accounts in other languages ​​are still working.
Twitter may also permanently shut down Donald Trump's official account this month for inciting an attack on the US Congress.
Adsense 300 x 250
---