Modi Says India Desires Cordial Relations With People Of Pakistan
Indian Prime Minister Narendra Modi said extended greeting to the people of Pakistan on the occasion of National Day.
According to details, the Indian Prime Minister has written a letter to Prime Minister Imran Khan congratulating him on Pakistan Day.
The letter of the Indian Prime Minister was handed over to the Foreign Office by the Indian High Commission.
Modi said in a letter that as a neighbouring country  India desires cordial relations with the people of Pakistan.
"For this, an environment of trust, devoid of terror and hostility, is imperative, Indian Premier added.
Modi also conveyed his best wishes for dealing with the challenges of the coronavirus pandemic.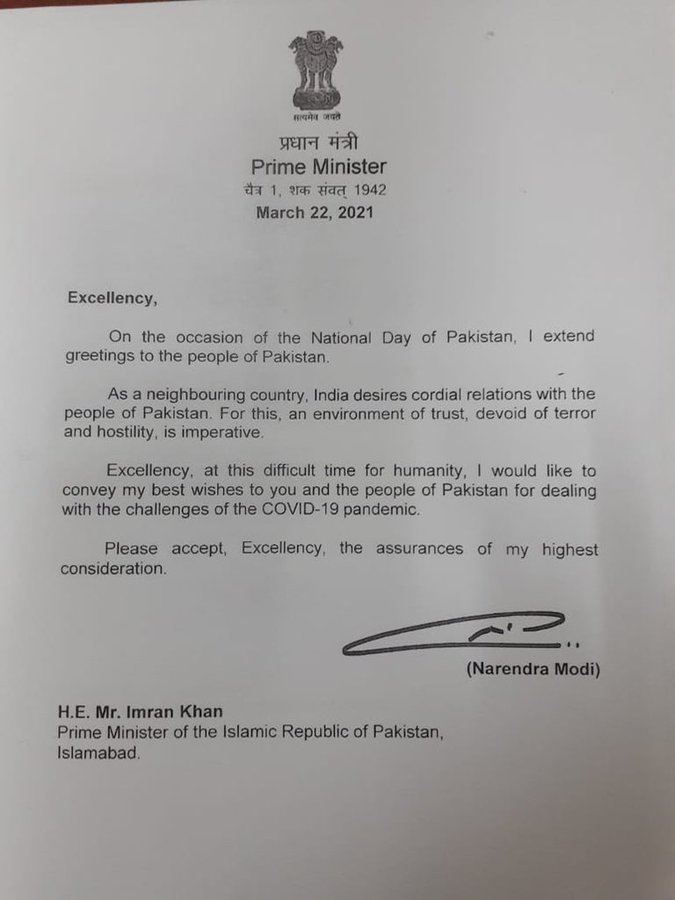 Pakistan Day is being celebrated today on March 23 to commemorate the 'Lahore Minto Park' Resolution in the year 1940.
Pakistan Day is a public holiday observed annually on March 23rd across the country.
The Lahore Resolution of 1940 is also known as the 'Pakistan Resolution' that ultimately led to the formulation of Pakistan.
However, amidst the ongoing new COVID-19 strain across the country, the celebrations will be held across the country virtually by different public and private departments.
Adsense 300 x 250
---