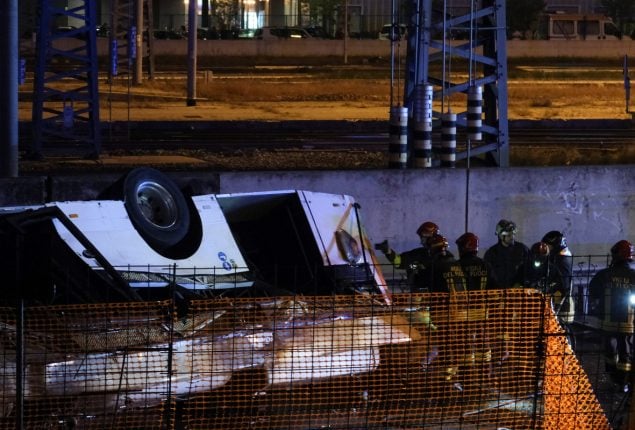 A tourist-carrying Italian bus crashed from a bridge in Venice.
The bus was transporting 40 passengers in total.
Those injured have been transported to nearby hospitals.
A tragic accident occurred near Venice in northern Italy, resulting in the loss of at least 21 lives and leaving 18 individuals injured.
The incident involved a bus carrying tourists to a campground, which veered off the road and plummeted from an overpass near the district of Mestre, closely connected to Venice via a bridge.
The exact cause of the accident remains uncertain, but Venice city councillor Renato Boraso mentioned that one possibility being investigated is that the 40-year-old Italian bus driver, who tragically lost his life in the crash, may have taken ill before the incident.
The bus was transporting 40 passengers in total, and among them, 21 lost their lives, while 18 sustained injuries. The death toll could potentially rise, as several of the injured individuals are in critical condition.
Those injured have been transported to nearby hospitals, with four of them in serious condition.
The accident took place at approximately 7:45 p.m. local time, causing the bus to fall about 15 meters (50 feet) onto electricity lines and subsequently catch fire, resulting in a devastating scene.
Venice's Mayor Luigi Brugnaro expressed his shock and sorrow on X, stating, "It's an apocalyptic scene. I am speechless."
According to Venice's prefect Michele Di Bari, who represents the local interior ministry, among the victims, five were Ukrainians and one was German.
Passengers from France and Croatia were also on board the bus, as reported by Italian news agency ANSA. Tragically, the victims included two children.
Rescuers continued their efforts late into the evening to carefully extract the wreckage of the bus, ensuring that no additional passengers were trapped inside.
Italy has unfortunately experienced several fatal bus accidents in recent years, underscoring the need for improved safety measures on its roadways.
To stay informed about current events, please like our Facebook page https://www.facebook.com/BOLUrduNews/.
Follow us on Twitter https://twitter.com/bolnewsurdu01 and stay updated with the latest news.
Subscribe to our YouTube channel https://bit.ly/3Tv8a3P to watch news from Pakistan and around the world.
Also Read
Advertisement
Read More News On
End of Article