PDM Rally in Karachi, Alternate Traffic Plan Released For Citizens
Preparations are underway for a Pakistan Democratic Movement (PDM) rally in Karachi's Bagh-e-Jinnah on October 18.
Three different stages have been set up for the rally, while traffic police have also announced alternative routes.
Vehicles will not be allowed near the venue. Preparations for the PDM Power Show in Karachi on October 18 are in full swing.
Three stages are being constructed in Jinnah Garden. The main stage is 80-60 feet which has been prepared for the central leaders while two more 40-50 feet stages have been prepared in the same place on which other leaders will sit.
According to the administration, 50,000 seats have been arranged in the hall so far and a security wall has been set up by placing containers around the stage. There is barbed wire in front of the stage.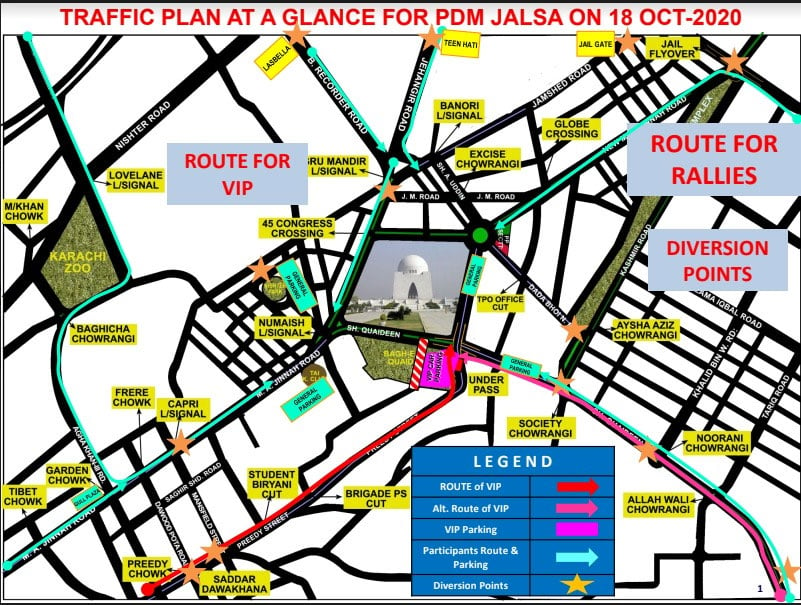 On the other hand, the traffic police have announced a traffic route plan. Regular citizens will not be allowed to travel from Jamshed Road and Teen Hatti.
According to the traffic police, citizens will be able to take the route from Gurmunder to Soldier Bazaar, from Jamshed Road to Jail Flyover, New Town and Tariq Road. Traffic coming from Karachi Jail Chowrangi to Jamshed Road will be diverted to Soldier Bazaar Business Recorder Road.
Heavy traffic coming from Nazimabad and Teen Hatti will not be allowed to go to Gurmundar, small vehicles will be allowed.
According to the traffic police, participants from Hyderabad will be able to reach the venue from the water pump and Liaquatabad.
Participants from Central District will be able to park their vehicles at the Nishtar Park or Tai Karate Ground from Gurmundar to the venue.
Participants coming from West District will be able to go to the meeting hall via Pak Colony, Garden Chowk, Saddar Dawakhana.
Participants from Southern District and Korangi will reach the venue via Shara e Faisal, Shara e Qaedeen, Khudadad Colony underpass.
Participants from Thatta and Malir and Sharqi districts will be able to park their vehicles near the resident engineer's office from PP Chowrangi and reach the venue.
Traffic police have allocated space for parking of vehicles. Participants will be able to park their vehicles at Nishtar Park, Tai Karate Ground and Shara e Qaedeen Underpass. Parking will also be available at Resident Engineer Mazar-e-Quaid on Corridor 3.
Adsense 300 x 250
---