The spokesman of Senator Rehman Malik, Riaz Ali Turi, has said that the lawyers of Former Interior Minister, PPP Sr. Leader & Chairman Senate Standing Committee on Interior Senator A. Rehman Malik have served the legal notice of defamation to US Citizen Cynthia D Ritchie for levelling bogus, wild, defamatory & derogatory allegations against him.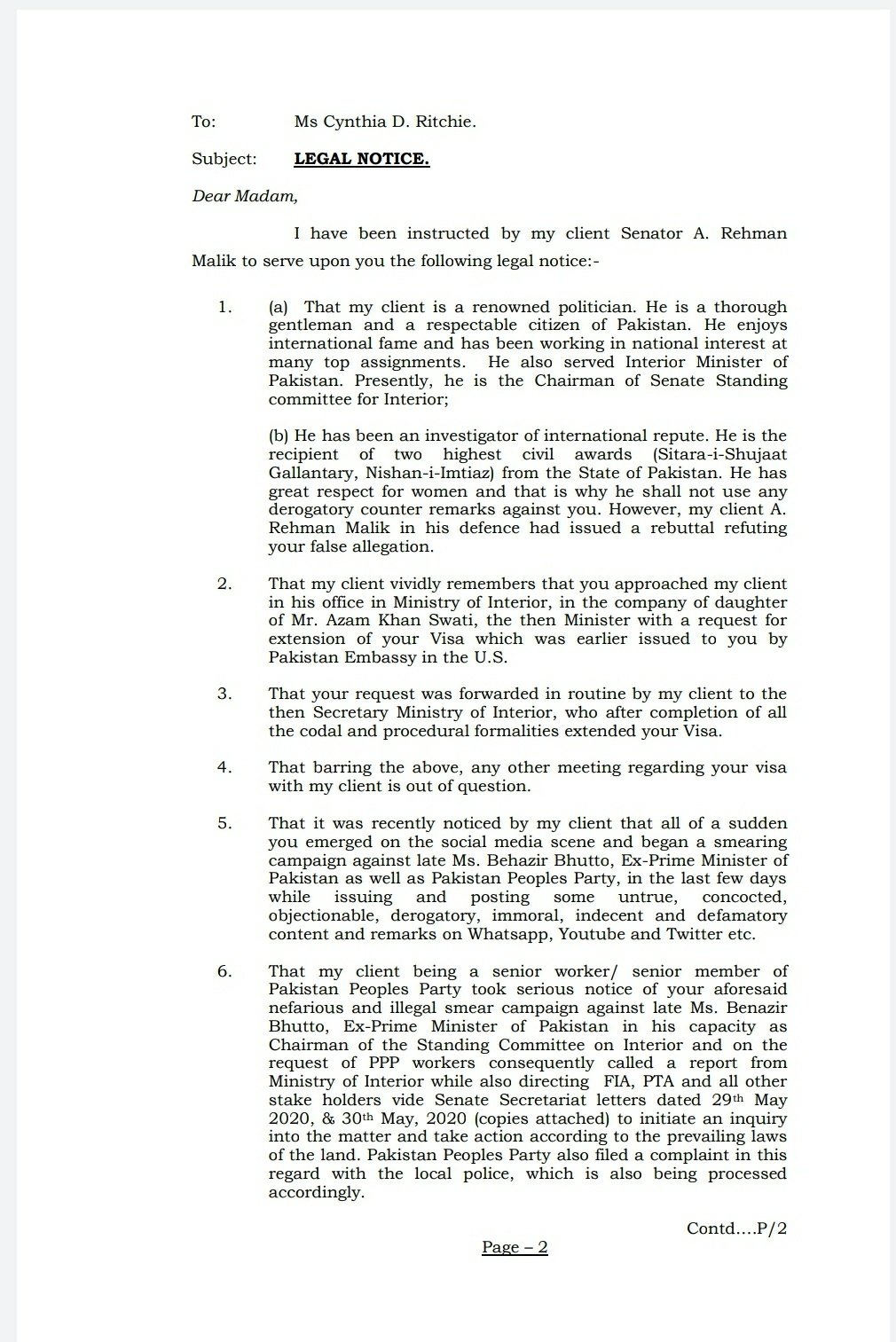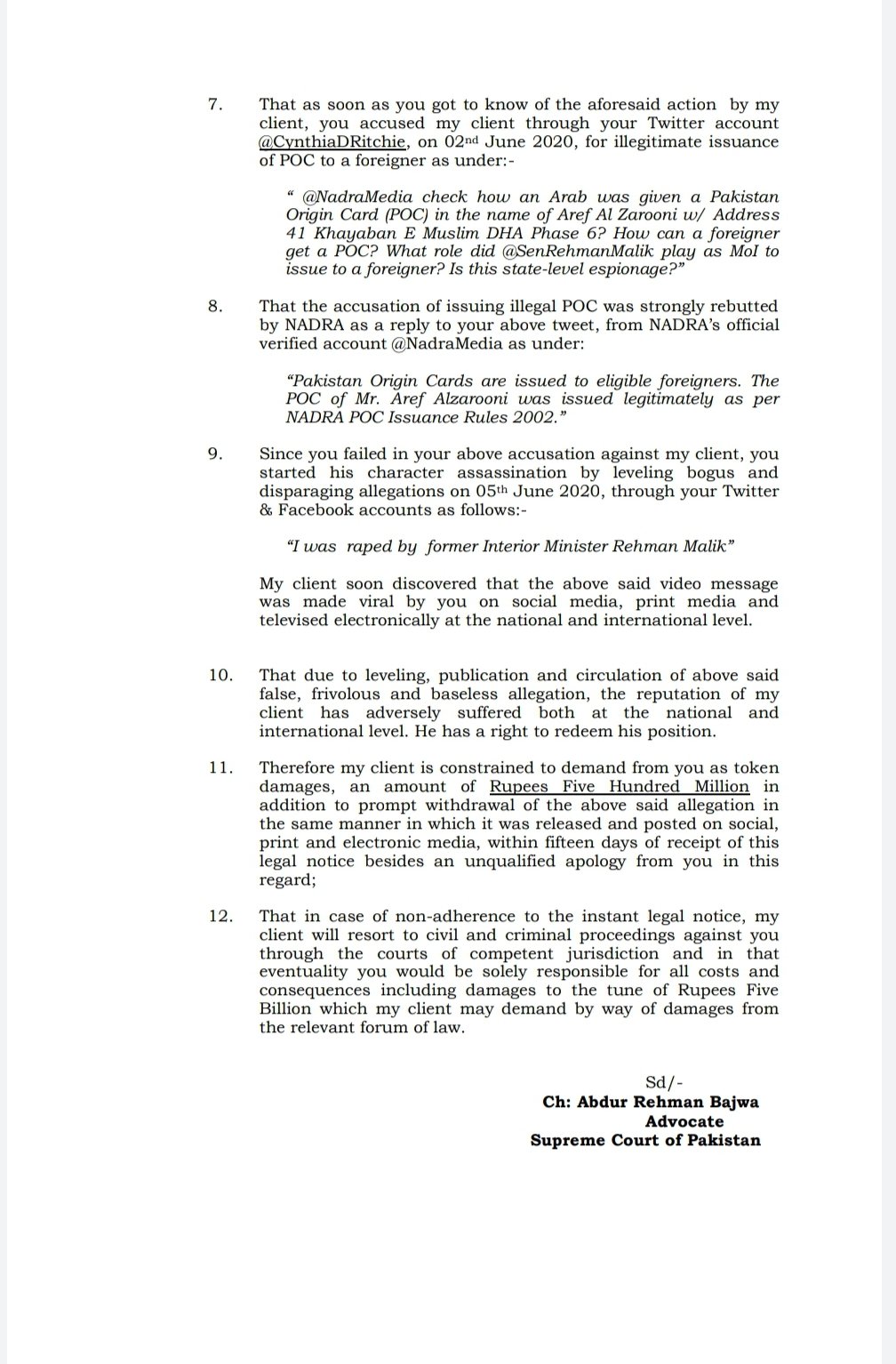 On the other hand, Pakistan People's Party (PPP) leader and former prime minister Yousuf Raza Gilani has also announced to file a defamation suit against Cynthia Richie.
Note that, Cynthia Richie, an American-born blogger, claimed that she had been raped by former Interior Minister Rehman Malik in 2011 and also accused former Minister Makhdoom Shahabuddin and former Prime Minister Yousuf Raza Gilani of physically harassed her.
Announcing this, Yousuf Raza Gilani said that Cynthia Richie had tarnished my image by making baseless allegations.
He said that a defamation suit would be filed against Cynthia Richie in Pakistan and the United States.
The former prime minister said that the American-born blogger had made baseless allegations against Bakhtawar Bhutto Zardari which were ignored and then he used vulgar words against Benazir Bhutto Shaheed which hurt our feelings.
The PPP leader said that he had not even met Cynthia as the Prime Minister. He did not know if Cynthia was present in the meetings with the delegations.
The former prime minister said that the first and last meeting with Cynthia was held at the house of a diplomat in Islamabad in 2019 and Jalil Abbas Jilani and other party leaders were also present during the meeting.
It is pertinent to mention here that in a live video on her Facebook page yesterday, Cynthia Richie had claimed that she was raped by former Home Minister Rehman Malik in 2011. "It is true, I will say again that the then Minister Rehman Malik had raped me," she said
Cynthia Richie also accused former Minister Makhdoom Shahabuddin and former Prime Minister Yousuf Raza Gilani of manhandling and said that Yousuf Raza Gilani was in the Presidency at the time.
Rehman Malik, Yousuf Raza Gilani and Makhdoom Shahabuddin, on the other hand, vehemently denied the allegations.
Cynthia Richie had also made slanderous remarks on Twitter regarding the marital life of Benazir Bhutto and her husband Asif Ali Zardari.
PPP Islamabad President Advocate Shakeel Abbasi had lodged a complaint against the blogger with the FIA.
The petition said that Cynthia Richie's remarks "hurt the hearts of millions of people who look at the martyred Mohtarma Benazir Bhutto with respect".
PPP leaders and activists also reacted strongly to the blogger's controversial remarks.
Also read: PPP rejects rape allegations by US blogger on Rehman Malik, Gilani