Tax Deduction on Mobile Recharge, PTA Issues Clarification
The Pakistan Telecommunications Authority (PTA) took notice of the news regarding tax deduction on mobile recharge on the social networking website and issued an explanation.
A statement issued by the PTA spokesperson said that after the permission given by the Supreme Court of Pakistan in April 2019, mobile phone operators will be required to recharge withholding, general sales tax and Receiving federal excise duty.
The statement said that mobile operators are deducting taxes on recharge or reload from prepaid customers, Rs 22.222 paise is deducted on Rs 200 recharge after which the user receives a balance of Rs 177.778.
The PTA clarified that the claim of Rs 48 deduction and Rs 152 balance on Rs 200 recharge on social media is unconfirmed and baseless.
Pakistan Telecommunications clarified that mobile phone operators are levying 19.5% General Sales Tax (GST) on calls, besides companies are also levying tax on SMS, Internet or other packages.
The statement said that when a user uses a balance of Rs 177,778, GST of Rs 29.01 is applicable to the user. Similarly, if a package is of Rs 167 without GST, it is Rs 199.56. Balance is needed.
Citing an example, the PTA spokesperson explained to the consumers that "if the company sets the price of any package at Rs 167, it is taxed at 32.56 paise, so a balance of Rs 199.56 is required."
The PTA said in a statement that due to lack of awareness about tax deductions, consumers often complain about higher tax collection from phone operators, which is not true.
The statement said that they have set a limit of Rs 0.15 per call setup charges. Action can be taken against a company receiving more than this if a complaint is lodged.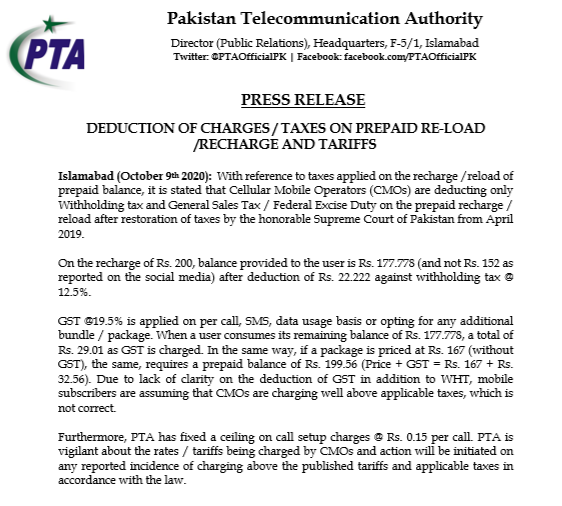 Adsense 300 x 250
---