LU Student pens down apology after proposal video goes viral
Shehryar Rana, a Lahore University Student who was expelled along with his fellow after the proposal video went viral on social media, has written an apology over the matter.
In his Facebook post, Shehryar Rana came out in support of the girl who proposed to him and requested the critics to avoid character assassination.
He wrote:
"AOA! I want to say that in this case the whole mistake was mine and i am sorry for all this, I humbly request you please do not talk about her character she is very noble girl if there is anyone who is characterless then he is me."
Shehryar Rana said:
She has just expressed her feelings in front of everyone.After this the all mistake was mine so you can call me a characterless.i am not just saying this for taking sympathy. I just want to say that she is a noble girl.
He added:
I am sorry to say that you are calling her a characterless because she is a girl".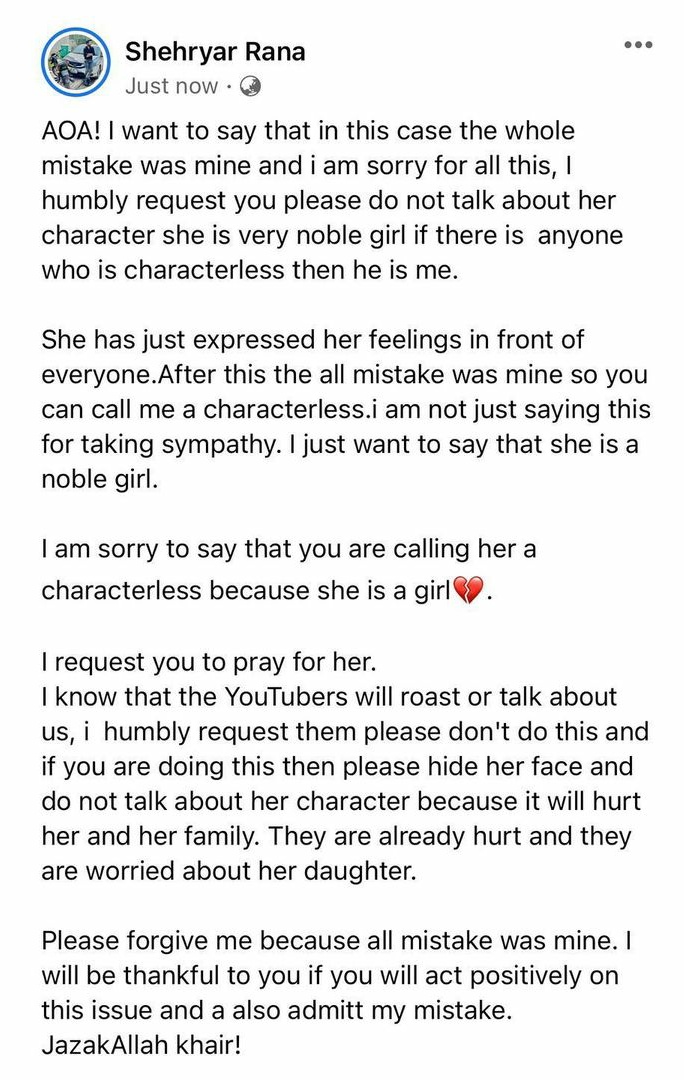 Shehryar went on to say:
I request you to pray for her. I know that the YouTubers will roast or talk about us, i humbly request them please don't do this and if you are doing this then please hide her face and do not talk about her character because it will hurt her and her family. They are already hurt and they are worried about her daughter.
He added:
Please forgive me because all mistake was mine. I will be thankful to you if you will act positively on this issue and also admit my mistake. JazakAllah khair!
Earlier today, Pakistan Peoples Party (PPP) leader and the party's MPA from Sindh, Sharmila Farooqi reacted to the University of Lahore proposal video that made waves on social media.
In her Tweet she said:
"Powerful! Expressive! Full of hope & love! More power to the youth!"
Powerful! Expressive! Full of hope & love! More power to the youth! https://t.co/5X2HjkY6hQ

— Sharmila faruqi (@sharmilafaruqi) March 14, 2021
It may be recalled that recently University of Lahore (UOL) expelled a student and a fellow student from the university after a video of them proposing and embracing each other in front of other students went viral on the internet.
Adsense 300 x 250
---