Android 12 Beta Testers Receiving Bulk Notifications from Gboard
A few days back, some Android users running the latest beta build of the operating system, Android 12 Beta 3, received numerous notifications called "Foreground Service BG-Launch Restricted."
After looking into it, the app being restricted, com.google.android.inputmethod.latin, is a Gboard which is Google's virtual keyboard for Android and iOS devices.
It seems that Google was trying to update some type of media related to the Gboard app leading to continuous notifications.
The Android Developer Website says, "Apps that target Android 12 (API level 31) can no longer start foreground services while running in the background, except for a few special cases. If an app tries to start a foreground service while the app is running in the background, and the foreground service doesn't satisfy one of the exceptional cases, the system throws a Foreground Service Start Not Allowed Exception."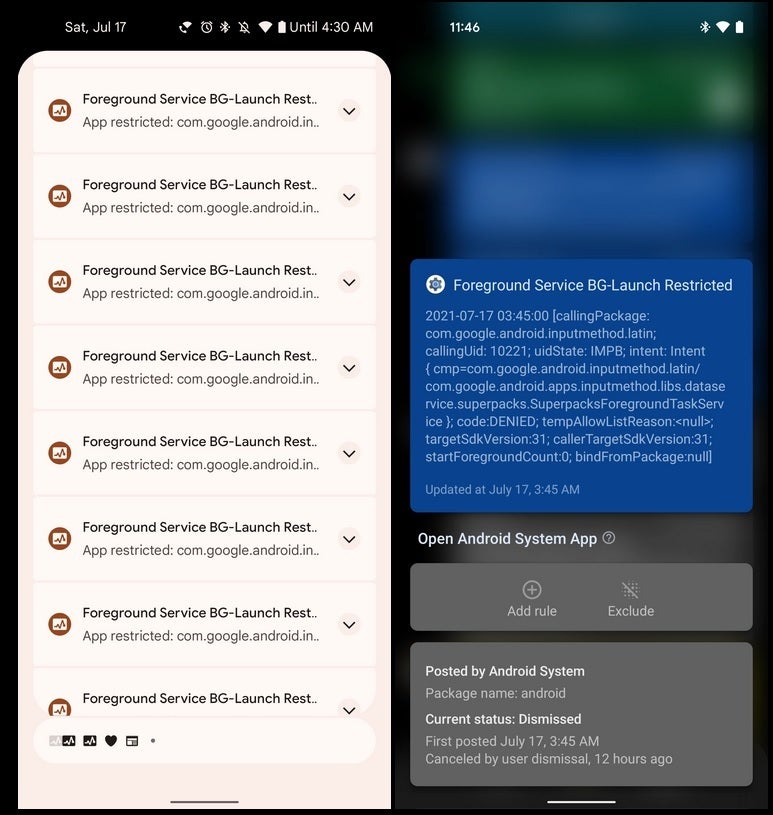 In other words, the foreground action that triggers the notifications is most likely a download. Since the users are receiving dozens of notifications along with the one caused by Gboard, you may require some time to get rid of the notifications as the "clear all" button might not come in handy. The bottom line is that if you see such notifications, you should not be concerned.
App developers, who are affected by this change should use the WorkManager programming interface which is recommended for starting high-priority background tasks.
The only way to avoid it is to wait for the stable release if the handset is your daily driver.
Adsence 300X250
---