Manchester City Closes in on £100m Signing of Aston Villa Captain
Manchester City closes in on the £100m signing of Aston Villa skipper Jack Grealish.
A deal could be completed in time for the England midfielder to play against Leicester City in the Community Shield on Saturday.
If this deal is completed, then this would be a British record for Grealish.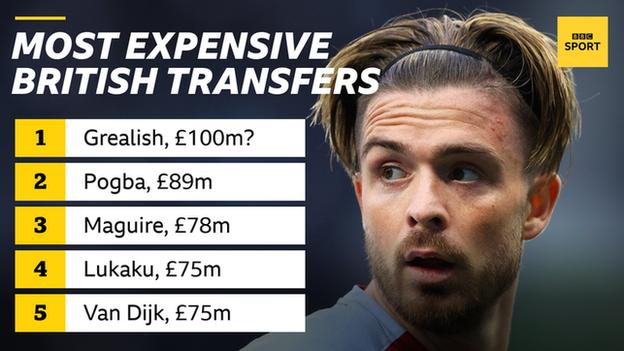 The fees for signing him will surpass the re-signing of France midfielder Paul Pogba from Juventus to Manchester united in 2016, which was £89 million.
It is reported that Grealish will have his medical at Manchester City.
Grealish is expected to join the club after returning to Aston Villa for pre-season training following Euro 2020.
The move appears to have gone considerably more smoothly than City's second primary target, Harry Kane, who is now locked in a standoff with Tottenham chairman Daniel Levy over the striker's allegation that he has a gentleman's agreement to leave the club this summer.
Grealish signed a five-year contract with Aston Villa last year.
City made its move last week after conversations with Villa by lodging a bid.
Grealish's ingenuity, according to manager Pep Guardiola, can provide an extra attacking dimension to what is already one of the most potent attacking units in the English game.
Last season, City scored 83 goals in the Premier League, ten more than second-placed Manchester United, but Guardiola clearly believes they are capable of more.
Villa announced the signing of winger Leon Baily for £25 million Wednesday to add to the arrivals midfielder Emiliano Buendia from Norwich City and Ashley Young from Inter Milan.
If City managed to close the deal, then it will make Grealish the ninth most expensive player in history.
Only eight players have been signed for a fee of £100m or more.
Neymar [Barcelona – Paris St-Germain] £200m in 2017
Kylian Mbappe [Monaco – Paris St-Germain] £166m in 2017
Philippe Coutinho [Liverpool – Barcelona] £142m in 2018
Ousmane Dembele [Borussia Dortmund – Barcelona] total fee of £135m in 2017
Joao Felix [Benfica – Atletico Madrid] £113m in 2019
Adsence 300X250
---