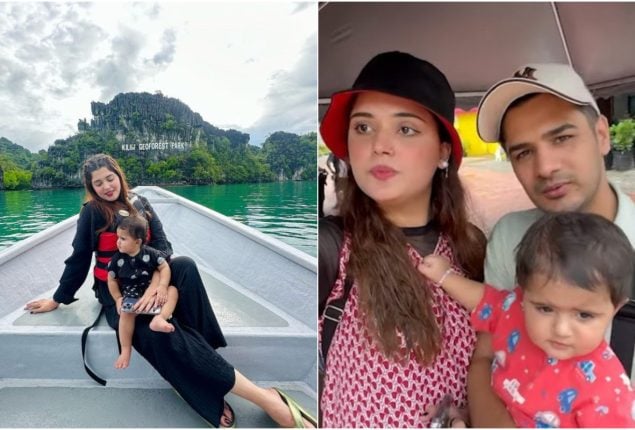 Kanwal Aftab and Zulqarnain Sikandar are renowned Pakistani social media influencers.
Currently, they are enjoying Langkawi's picturesque beauty.
Kanwal & Zulqarnain Exploring Langkawi With Little Daughter Aizal.
Kanwal Aftab and Zulqarnain Sikandar, the popular and talented Pakistani social media influencers, are a stunning couple known for their fantastic TikTok videos and daily YouTube vlogs.
Kanwal Aftab boasts 19 million TikTok followers, while Zulqarnain Sikandar has 17 million. Their YouTube channel has 1.72 million subscribers.
Recently, they enjoyed a luxurious vacation in Malaysia, beginning their trip by exploring Kuala Lumpur, indulging in shopping, flow riding, and visiting Genting Strawberry Farms.
Kanwal Aftab and Zulqarnain Sikandar are currently in Langkawi, savoring the delightful weather on the picturesque island.
They are staying at a luxurious hotel and have been having a wonderful time with their daughter, Aizal. The family enjoyed a swim together and embarked on an exciting boat trip, exploring Langkawi's renowned crocodile cave and bat cave.
Kanwal and Zulqarnain also had an enjoyable bike ride from their hotel to the lake, where they observed fishing activities and engaged with the local community.
Take a Look:
Also Read
To stay informed about current events, please like our Facebook page
https://www.facebook.com/BOLUrduNews/.
Follow us on Twitter
https://twitter.com/bolnewsurdu01 and stay
updated with the latest news.
Subscribe to our YouTube channel https://bit.ly/3Tv8a3P to watch news from Pakistan and around the world.
Advertisement
Read More News On
End of Article