Indian actor cum politician Shatrughan Sinha met President of Pakistan Dr. Arif Alvi in Lahore today.
During the meeting, they discussed the importance of building peace bridges across the border.
Shatrughan Sinha also endorsed the concern of the President of Pakistan about the lockdown of occupied Kashmir for more than 200 days.
The President expressed his deep concern over the human rights violations by Indian security forces in Occupied Jammu and Kashmir.
He highlighted the persecution of Indian minorities, particularly Muslims, which are being discriminated and oppressed under Citizenship (Amendment) Act, 2019.
The President also highlighted Prime Minister Imran Khan's peace overtures that were unfortunately spurned by the Modi Government.
In response to Dr Alvi's statement that AJK is completely peaceful area, Sinha proposed that parliamentarians from both sides of the aisle in India should be invited to visit AJK to see the situation on the ground.
Both agreed that there was a strong need to work for promotion of peace in the subcontinent.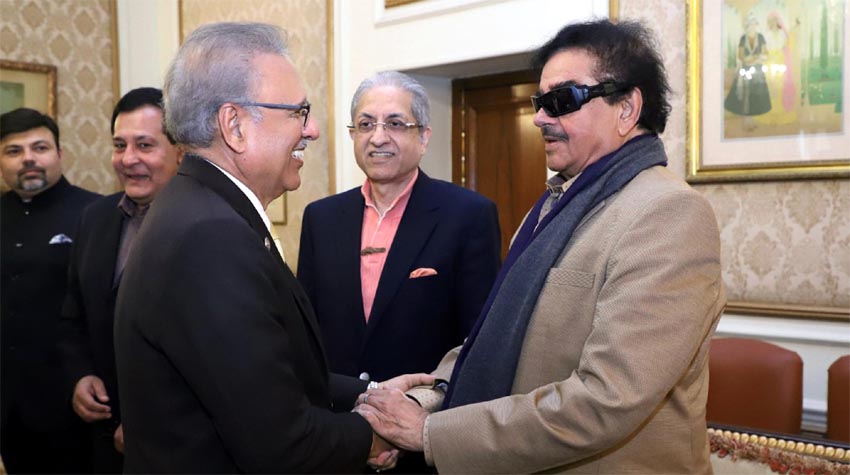 He was on personal visit to Pakistan on the invitation of Pakistani businessman, entrepreneur Mian Asad Eshan & his wife.
Sinha said on his Twitter that Mian Asad Eshan is a dear family friend & his wife Mrs Poonam Sinha's rakhi brother.
"I'm here representing my family for the wedding of Mian Asad Eshan's son Mian Ahmed Asad's wedding with Heena Baig," he added.
Mian Ahmed is the worthy grandson of the most celebrated filmmaker & pioneers of Pakistan film industry #MianEhsan.This is purely a personal visit nothing official, nor political about it. The Eshan family have visited us several times in the past & the last time for my son pic.twitter.com/0XkiKoZkNa

— Shatrughan Sinha (@ShatruganSinha) February 22, 2020
guests including the elegant, dignified actress par excellence #MrsReemaKhan, frm Chief Justice, Lahore/Punjab HC Hon'ble #Mohd.YawarAli with his family,
Chrm,Telecom #Brigd.Vaqar & his graceful wife, Hon'ble frm Chief Justice SC #AsifSaeedKhosa
old, gold, bold,& beautiful

— Shatrughan Sinha (@ShatruganSinha) February 22, 2020