Mobile Users Can Now Call National Highway, Motorway Police For Free
Pakistan Telecommunication Authority (PTA) has declared that all calls made to National Highway and Motorway Police (NH&MP) emergency helpline 130 shall be free of charge.
According to the spokesperson of Pakistan Telecommunication Authority, IG Motorways Kaleem Imam called on PTA Chairman Major General (retd) Amir Azeem Bajwa during which he discussed telecom coverage on various motorways and highways including M3 and Hazara Expressways.
A statement issued by the PTA said that the Pakistan Telecommunication Authority had made calls to the National Highway and Motorway Police (NH&MP) helpline free of cost.
The PTA statement said that mobile users can now call 130 for free as no charge will be levied for their call.
On the occasion, Chairman PTA Amir Azeem Bajwa assured the National Highway and Motorway Police that all possible cooperation would be provided for the convenience of the people travelling on the highways and motorways.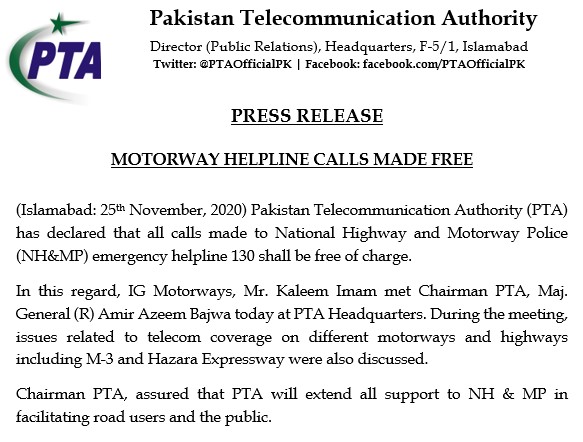 Adsense 300 x 250
---