President Deletes Tweet About Mir Zafarullah Khan Jamali Death
President Arif Alavi issued a statement on Twitter condoling the death of former Prime Minister Mir Zafarullah Khan Jamali, but deleted it shortly after.
Later in a new tweet, the President explained the deletion of the tweet and said that Mir Zafarullah Khan Jamali is on ventilator.
I have deleted the Tweet, based on wrong info with apologies to the family. Mir Zafrullah Jamali is on the ventilator. I talked to Omar Jamali who confirmed this. May Allah grant him immediate recovery.

— Dr. Arif Alvi (@ArifAlvi) November 30, 2020
President Arif Alvi said that he had deleted his tweet based on false information. He apologized to the family of Mir Zafarullah Khan Jamali.
The President said that he had spoken to Omar Jamali who told him that Zafarullah Jamali was on a ventilator. May Allah grants Mir Zafarullah Jamali immediate recovery, he added.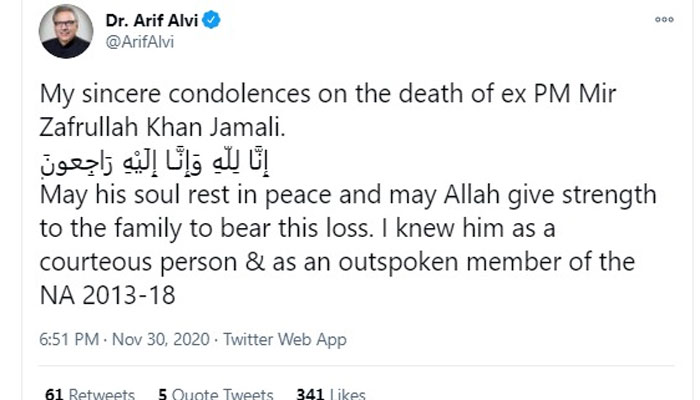 Yesterday, Zafarullah Khan Jamali has been shifted to a private hospital after suffering a cardiac arrest on Sunday.
According to family sources, Zafarullah Jamali is under critical condition after the heart attack. He has been shifted to a ventilator after his health deteriorated, said sources.
Zafarullah Jamali Parted Ways With PML-N
Earlier in 2017, Mir Zafarullah Khan Jamali had parted ways with the Pakistan Muslim League-Nawaz (PML-N) owing to a conflict of opinion with the party head over confrontation with national institutions.
Jamali had also announced his resignation from the National Assembly stating that truth is not spoken in the assembly.
According to reports, Jamali had advised PML-N President Nawaz Sharif to avoid confrontation with state institutions.
The former PML-N leader is expected to announce his next course of action after consultation with people of his constituency.
Reports also suggest that he had reservations over policies of the PML-N. He stated that former premier Sharif has failed to change despite a multitude of political developments in the country.
Subsequently, Pakistan Tehreek-e-Insaf (PTI) and Pakistan People's Party (PPP) leaders have started making efforts to woo Jamali into their folds.
Later, he had joined hands with PML-N and severed ties with the party after the military coup led by former president Pervez Musharraf.
Jamali Resigns From National Assembly
Later in 2018, Jamali had announced his resignation from the National Assembly.
Jamali had served as the prime minister of Pakistan from 2002 to 2004 during President General (retd) Pervez Musharraf's tenure.
Adsense 300 x 250
---