CM Punjab Takes Notice, Orders To Remove 'Defective' Sculpture Of Allama Iqbal
Punjab Chief Minister Sardar Usman Buzdar has taken notice of the installation of a 'defective' sculpture of national poet Allama Iqbal in Gulshan-e-Iqbal Park in Lahore and ordered its immediate removal.
The local administration of Lahore had erected a statue of Allama Iqbal in Gulshan-e-Iqbal Park, which was condemned by the people and most of them refused to accept it as a sculpture of Allama Iqbal.
When people saw the statue, they were not only shocked but also expressed anger at the administration over the 'faulty' statue.
Allama Iqbal's sculpture in Lahore. I'm glad he's not alive to see this. pic.twitter.com/kOd3lz3zsI

— تلمیذ (@Talmeez92) February 1, 2021
The great poet Allama Iqbal sculpture newly placed in Gulshan e Iqbal park Lahore. This is beyond the expectations, it's totally disappointing and insulation of the great Scholar. 🙏 😞 https://t.co/eFzRHmlKxg pic.twitter.com/tLl19I5xNV

— SuFi~ :(: ☘️ (@SakaSufi) February 1, 2021
Chief Minister Usman Buzdar took immediate notice of the incident and ordered the immediate removal of the statue after which it would be removed soon.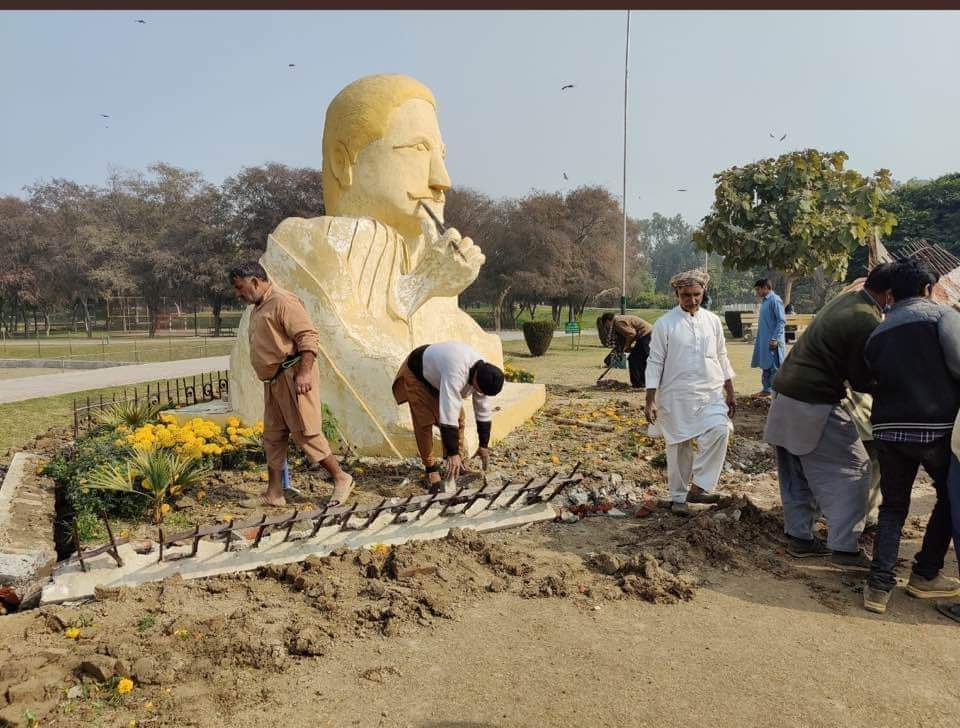 Chief Minister Usman Buzdar sought a report from the DG Parks & Horticulture Authority (PHA) and ordered an inquiry into the incident.
He said that a comprehensive inquiry should be held and those responsible should be identified and disciplinary action should be taken.
Usman Buzdar said that the incident of placing the statue in the park was due to negligence of the concerned authorities and departmental action would be taken against the negligent ones.
As soon as the photos of Allama Iqbal's statue came to light, there was an uproar on social media, and people not only termed his statue as 'defective' but also as an insult to the national poet of the country.
Some people saw the German philosopher Nietzsche in the statue of Allama Iqbal and some saw the Federal Minister of Education Shafqat Mahmood.
On the other hand, after criticism on social media, former project director of Gulshan-e-Iqbal Park Lahore, claimed that the said statue is incomplete and was installed before the completion.
He said that he had bought a large poster of Allama Iqbal from Urdu Bazaar and instructed the artist to make a sculpture in view of this poster.
According to the former project director, the statue was to be painted golden after the completion, but this could not be done due to lack of funds.
However, in the photos shared on social media, it can be clearly seen that the statue is complete, but the features of the statue do not resemble Allama Iqbal.
Adsense 300 x 250
---