Sindh: All Shrines To Remain Shut Till April 6 Over COVID Spike
Following the sharp increase in Coronavirus cases amidst the ongoing third layer, the Sindh government has announced to shut all the shrines and Dargahs till April 6, 2021.
A notification to close all the shrines across the province has been issued by Sindh's Auqaf Department.
The closure of shrines and Dargahs will be effective from March 28th till April 6th 2021.
"Due to current wave of COVID-19 spread throughout the country, looking to present conditions Dargahs/Shrines under administration control of Auqaf Department Government of Sindh will be closed for ten days from 28th March to April 6th 2021, further decision will be reviewed keeping in view the COVID-19 condition," read the notification.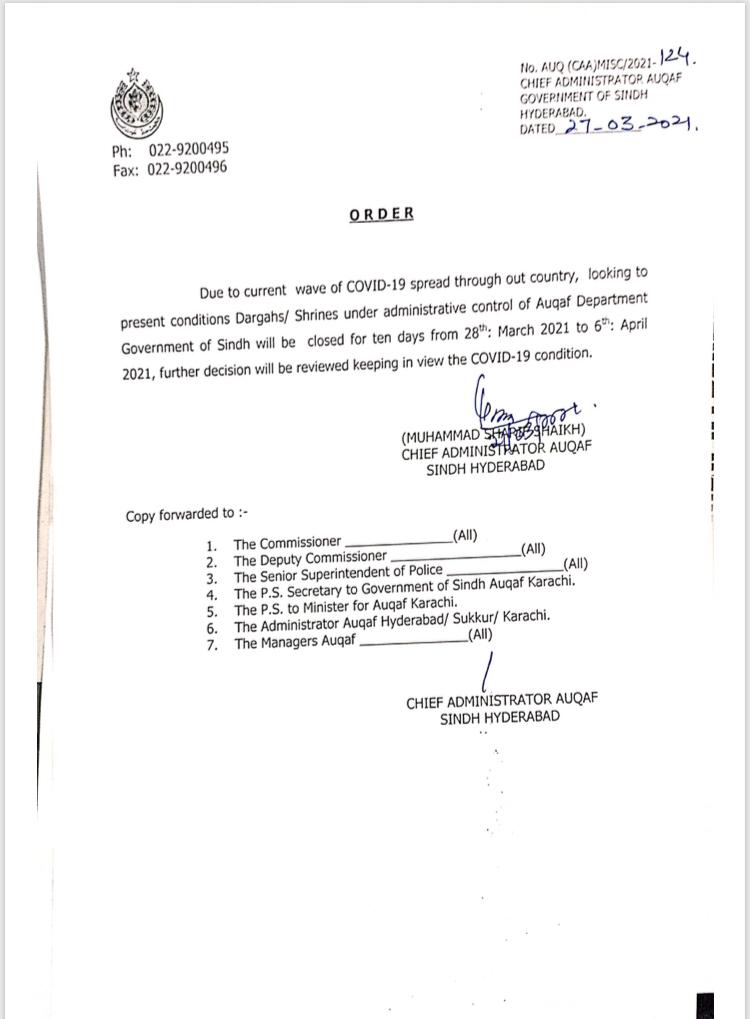 Earlier, a micro-smart lockdown had been foisted in three areas of Karachi's district central, a notification issued in this regard said.
The lockdown in these areas had been implemented from March 17 until March 31, 2021.
The notification further stated that the lockdown came into effect, including nine union councils (UCs) of North Karachi, North Nazimabad, and Gulberg.
The notification read, "In pursuance of the recommendations of the district health officer regarding the emerging hotspots with respect to the spread of COVID-19 and powers conferred in Section 3(3) of the Sindh Epidemic diseases Act 2014, it is hereby ordered that a micro smart lockdown is to be enforced in the specified areas for a period of two weeks."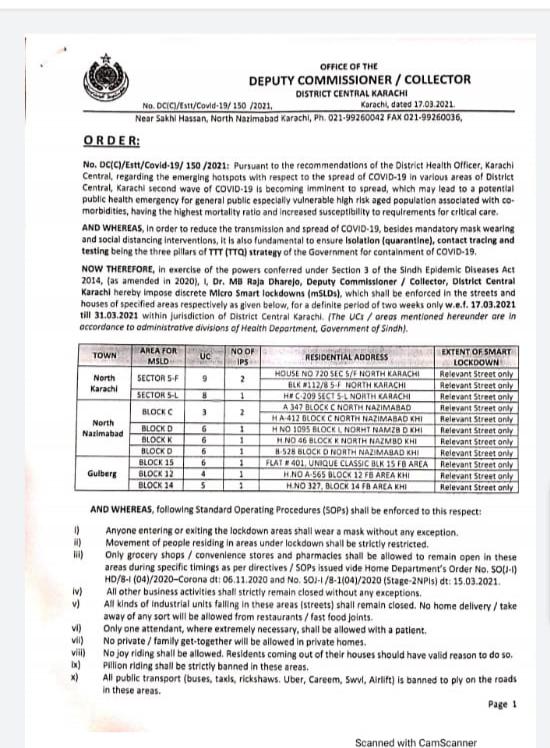 Previously, Sindh had announced a smart lockdown with immediate effect till April 15th, 2021.
According to the notification, amusement parks will be closed by 6 pm.
Moreover, indoor weddings will not be allowed. Only outdoor weddings and events will be allowed with the upper limit of 300 persons till 10 pm. Events will be held under defined SOPs.
Indoor dining will not be allowed. Only outdoor dinings, takeaways, and home delivery will be allowed.
Apart from that, indoor gyms, indoor sports facilities, cinemas, theatres, and shrines will remain closed.
People have been directed to wear the mask and follow social distancing at all public and private offices.
Work from home will be allowed with 50% of the staff in public/private offices.
Adsense 300 x 250
---