Ramadan 2021: Timings For Islamabad's Government Offices announced
Ahead of Ramadan 2021, which is all set to begin from April 14th in Pakistan, the Federal government has announced new timings for government offices during the holy month.
According to the official circular by the Establishment Division, the working hours in government offices of Islamabad during Ramadan will be from 10 am to 4 pm from Monday to Thursday, whereas on Fridays the timings will be from 10 am to 1 pm.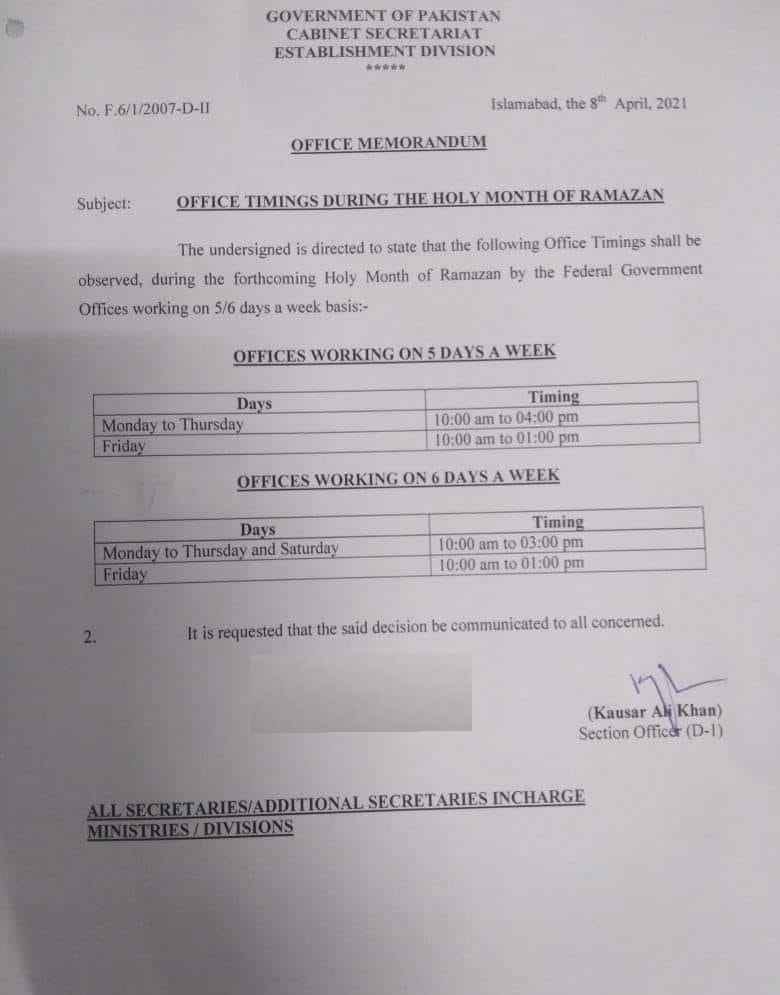 Note that Federal Minister for Science and Technology Fawad Chaudhry had on Saturday claimed that the Holy month of Ramadan will fall on April 14 in Pakistan.
He tweeted today that the moon of Ramadan will be sighted on April 13 in Lahore, Islamabad, Peshawar, and Karachi.
The moon of Ramzam , 1442 AH will be sighted on the evening of April 13, 2021, and the first Ramzan will be on the 14th April, 2021 ( InshaAllah). The moon will be clearly sighted in Islamabad, Lahore, Peshawar and Karachi.

— Ministry of Science & Technology (@MinistryofST) April 3, 2021
Previously, the National Command and Operations Center (NCOC) had issued guidelines for prayers and Taraweeh in mosques and Imambargahs in connection with Ramadan.
The guidelines state that huge gathering will not be allowed in the prayer halls, Taraweeh prayers will be arranged outside the premises of the Imambargahs and mosques on roads and footpaths.
The NCOC has said that ablution will be prohibited in mosques and Imambargahs. While performing ablution, wash hands with soap for 20 seconds.
Carpets will not be laid, prayers will be offered on the floor, the floor will be washed with chlorinated water, while citizens will advisable to bring their prayers carpets from home to the mosque.
The guidelines state that children over the age of 50 should not come, while worshipers suffering from flu and cough should not come to mosques and Imambargahs.
The NCOC has directed the worshipers to come to the mosque, Imambargah wearing masks and refrain from holding gatherings, keeping a distance of 6 feet between the worshipers during queuing and marking the rows to facilitate the worshipers.
The NCOC has directed that in the current situation of Coronavirus, the devotees should observe I'tikaf at home while Sahar and Iftar should not be arranged in mosques and Imambargahs.
Mosques, Imambargah management has been directed to form a committee for implementation of SOPs.
The guidelines state that the management of mosques and Imambargahs is being given conditional permission subject to the implementation of SOPs, non-implementation of SOPs, the policy will be reviewed if cases increase, while the government will provide relief to severely affected areas.
Adsense 300 x 250
---