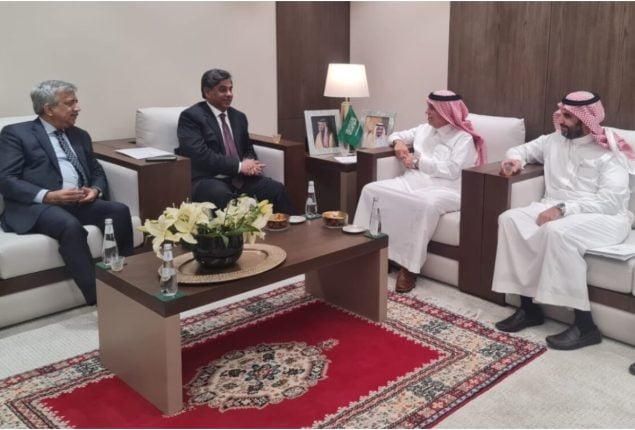 ISLAMABAD: The Pakistan-Gulf Cooperation Council Free Trade Agreement (Pak-GCC FTA) has initiated a promising era for trade liberalization and economic ties with GCC countries.
In a historic moment, the Pakistan-Gulf Cooperation Council Free Trade Agreement (Pak-GCC FTA) was inked at the GCC Headquarters in Riyadh. The Ministry of Commerce said this ushers in a promising era for trade and economic relations between Pakistan and the GCC member states.
Commerce Minister DrGohar Ejaz expressed heartfelt gratitude to Dr Majid bin Abdullah Al-Qasabi, the Minister of Commerce and Chairman of the General Authority for Foreign Trade of Saudi Arabia.
Dr Gohar Ejaz extended his sincere appreciation for the exceptional leadership demonstrated by Dr Majid throughout the extensive negotiation process of the FTA. His unwavering commitment ensured that the FTA aligns seamlessly with the shared vision of the GCC and Pakistan, the minister said.
The minister emphasized that the hearts of Pakistanis and the people of GCC countries already beat in unison and now their trade is set to be seamlessly integrated. This moment marks a significant step towards elevating trade relations to match the outstanding brotherly ties that exist between the two parties, he added.
He said the FTA represents the most comprehensive and contemporary trade agreement that Pakistan has ever signed with any nation. It encompasses not only trade in goods but also extends to trade in services, including digital trade, intellectual property rights, tourism, standards, and investment, he added.
This holistic approach is poised to stimulate economic growth and activity throughout the region, ultimately resulting in job creation and an enhanced standard of living for the people of both regions, he further said.
With negotiations now successfully concluded, the internal processes for signing, ratification, and swift implementation of the FTA are set to commence. This expedited approach aims to ensure that both parties swiftly reap the benefits of this historic agreement.
Also Read
Advertisement
Read More News On
End of Article