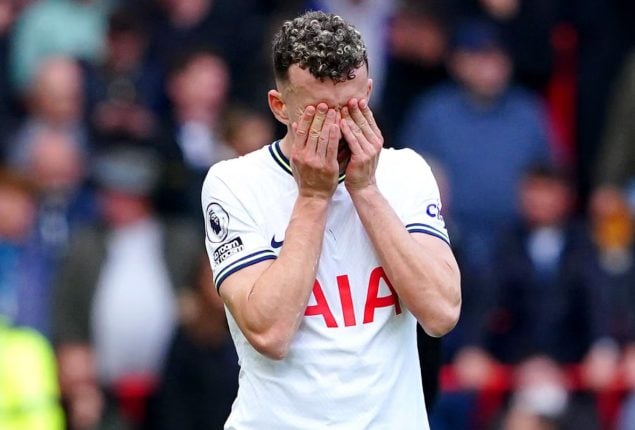 Ivan Perisic suffered a complex ACL injury during a non-contact training session.
He is expected to be sidelined for the remainder of the season.
Perisic is in the final year of his contract with Tottenham, and it is unclear if he will be offered a new deal.
Tottenham Hotspur's winger, Ivan Perisic, could be facing the end of his tenure with the North London club, as the 34-year-old recently experienced a significant Anterior Cruciate Ligament (ACL) injury during a training session where there was no direct contact involved.
Perisic is scheduled to undergo knee surgery in the coming days and will subsequently embark on a rehabilitation process that will rule him out for the remainder of the season.
"We can confirm that Ivan Perisic has suffered a complex Anterior Cruciate Ligament (ACL) injury in his right knee," the club confirmed in a brief statement.
"The experienced Croatia international sustained the injury in non-contact training and will undergo surgery.
"Ivan will then commence his rehabilitation with our medical staff and is expected to be sidelined for the remainder of the season."
Perisic's tenure at Tottenham may have reached its conclusion, as it's probable that he won't be fit to play until April or May due to his recovery. Additionally, the Croatian footballer is in the final year of his contract, which expires in June 2024.
Last season, Perisic played a pivotal role under Antonio Conte, starting matches regularly. However, under the new head coach Ange Postecoglou, he has transitioned into more of a substitute and has appeared in six games for the North London club this season.
In a recent match against Sheffield United, Perisic came off the bench in the 80th minute and made a significant impact. He provided an assist for Richarlison's equalizing goal with an in-swinging corner and was involved in the build-up to Dejan Kulusevski's winning goal.
As Tottenham prepares for their highly-anticipated clash with Arsenal in the North London derby this Sunday, they will be hoping that Perisic's absence won't significantly affect their performance.
In addition to his time at Spurs, the 34-year-old has had stints with prominent clubs such as Bayern Munich, Inter Milan, Borussia Dortmund, Club Brugge, and Wolfsburg.
Also Read
To stay informed about current events, please like our Facebook page https://www.facebook.com/BOLUrduNews/.

Follow us on Twitter 
https://twitter.com/bolnewsurdu01
 and stay updated with the latest news.
Subscribe to our YouTube channel 
https://bit.ly/3Tv8a3P
 to watch news from Pakistan and around the world
Advertisement
Read More News On
End of Article