Chinese New Year also known as "Gold Rat" or "Metal Rat" year occurs on Saturday this year.
According to the details, this Chinese new year is the year of the rat, the first animal of the Chinese Zodiac and the start of a new 12-year cycle.
2020 is the year of the rat which represents the rat as being "very clever, innovative and  active, rats are very hardworking and they love to collect things and organize things.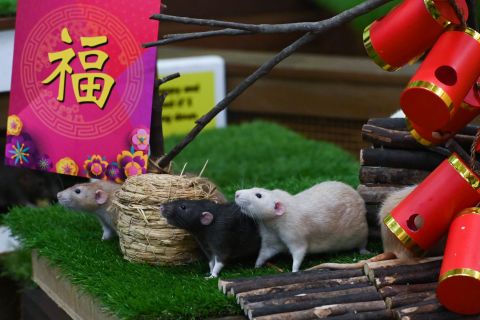 Chinese celebrate New Year by cleaning their home, and decorate their homes with red banners, artwork and flowers. People also prepare meals as big feast takes place on New Year's Eve.
The occasion is meant to be spent with family and friends and inspires observers to start anew. In preparation, symbolic foods are made, houses are cleaned and attention is paid to appearances.
on the occasion of Chinese New Year  the Spring Festival Gala was also celebrated which began in 1983, is a large-scale comprehensive cultural and art party launched by Chinese National Television on New Year's Eve to celebrate the arrival of the Lunar New Year.
This year's "Spring Festival Gala" stage created a three-dimensional dance beauty for the first time, while using flying screen technology to create a 360-degree surround landscape, bringing the audiences the ultimate experience of "naked eyes 3D" in front of the screen.
In order to fight the epidemic of the new type of coronavirus pneumonia, a scene report program "Love is a Bridge" was specially added on the live broadcast of the Spring Festival Gala to help Wuhan and cheer for China.