Pakistan's renowned social media star Waqar Zaka is once again using the power of social media for a thought-provoking cause.
He announced to donate all his social platforms earnings to the victims of the Coronavirus.
He started a show on a YouTube named  'Headphone Show'  to reduce people's  stress amid this situation.
Zaka's 'Headphone Show' has gained popularity among the public and has brought a unique entertainment show at this tensed situation when people are getting exhausted by staying at home due to the pandemic .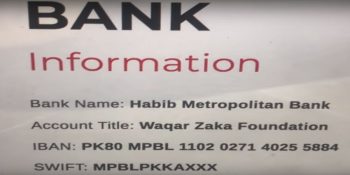 Waqar Zaka's 'Headphone Show' has collected $ 862  in just two days, which will be used to help Coronavirus patients.
Waqar Zika is the only artist so far who donates 100% of his online earning. He started a trend for it five years ago called 'social media pe daal' (put it on social media).
If you too have been feeling depressed by hearing excessive amount of Corona news, open YouTube and enjoy the 'Headphones Show' by Waqar Zaka.
 Zaka also asked his followers to create their twitter accounts and start a trend with a hashtag "#cryptokolegalkaro". His purpose behind this idea is to urge the Prime Minister Imran Khan and state bank governor to lift the ban imposed on bitcoins and cryptocurrency in Pakistan.
The host of the successful reality show "Champions" said in the video that people are staying at homes as part of the partial lockdown forced by the government. Coronavirus has also influenced the businesses badly in the country.
Why does Waqar want people to consider cryptocurrency?
Waqar emphasized that people would have earned at home in this situation through the use of cryptocurrency if it was made legal.
In addition to this, Waqar also spoke over the issue that coronavirus can be transmitted through money too. There must be a digital system for business and trading in Pakistan.
He also clarified that cryptocurrency does not promote money laundering, it promotes trading and business. But even PayPal has not been stabilizing in the country.
Furthermore, he added several countries, including India, have also legalized cryptocurrency. Pakistan is the only country which has imposed ban on it.
Waqar Zaka offers free services of cryptocurrency
Social media celebrity has not raised the issue, he has also offered a feasible solution. Waqar announced to provide free services to help entrepreneurs and other professionals develop a blockchain system using cryptocurrency. Surprisingly, he is providing services free of cost. His team consists of highly professional people working at a platform named "TenUp Nation".
As per the official website, TenUp Nation is powered by the community and is poised to help entrepreneurs in raising funds for their projects while helping refugees and the unbanked globally. TenUp will achieve these goals by using the disruptive power of blockchain technology and unlike other blockchain projects, TenUp is built to serve the needs of an important and long-neglected audience.
Pakistan we need to do this, please follow and help me. pic.twitter.com/ROE995kf6B

— Waqar Zaka (@ZakaWaqar) March 19, 2020