Lookalike of Maulana Tariq Jamil leaves the internet divided; see reactions
Internet is a place where we get to know about many interesting things and what people are actually going through. Netizens are quite active to find uncanny resemblances of the famed personalities and usually, they never fail to do so.
This time the internet has found the lookalike of Maulana Tariq Jamil, a renowned religious scholar. He has millions of devotees due to the prominence of his character. Maulana Tariq Jamil has made a significant impact on the lives of people in Pakistan and around the world.
However, news emerged that the globally-acclaimed scholar has recently met his lookalike and the internet is divided. A video clip of their brief meeting has brought storm all over social media as the netizens found it hard to pick the real one.
We are pretty sure that every person's doppelganger is already out there in this world. Either that or they are yet to come to this world or have passed away already.
So, here we have a picture of Maulana Tariq Jamil and the man with an absolute resemblance to him.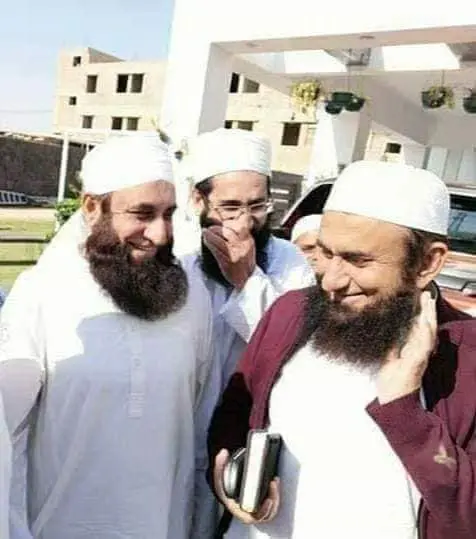 Netizens think that the doppelganger is the carbon copy of the acclaimed scholar. Interestingly, the Maulana's look-alike wore the same outfit as him.
Who's the real Molana Tariq Jamil? Hard to guess. Isn't? pic.twitter.com/X34bibxGxc

— Malik Mubashar (Mano 28 Aug) (@Mubashar_says) August 26, 2021
Maulana Tariq Jamil was born on 1 October 1953 in Mian Channu, Pakistan. He completed primary education at Central Model School, Lahore. Jamil is an alumnus of Government College University.
He received his Islamic education from Jamia Arabia, Raiwind, where he studied Qur'an, Hadith, Sufism, logic, and Islamic jurisprudence.
In 2019, the religious scholar stood 40th on a list ranking the world's most "influential" Muslims.
Note that prior to launching the ambulance service, Maulana Tariq had launched a clothing brand namely 'MTJ'.
He also clarified in a statement that the purpose of his business was to run madressahs so that they are not dependent on Zakat.
Adsence 300X250
---