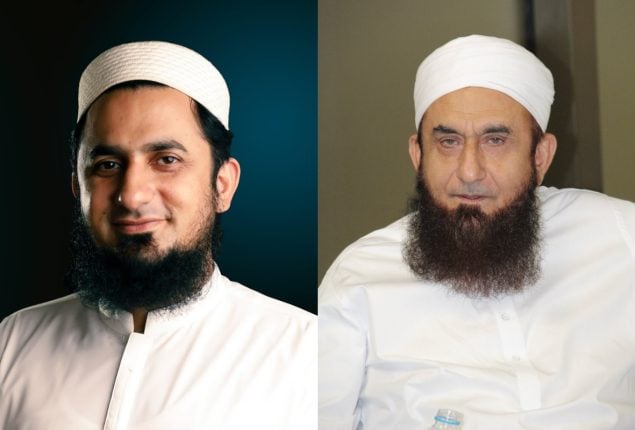 Son of Maulana Tariq Jamil shares insights into his father's personal life.
Yousaf discusses the challenges faced by the children of clerics.
Yousaf also sheds light on his father's Foundation's mission.
The son of the esteemed Pakistani cleric, Maulana Tariq Jamil, Yousaf Jamil, engaged in a discussion with Hafiz Ahmed to provide insights into his father's personal life and journey.
The conversation initiated with an examination of the common belief that children of clerics tend to rebel against their family's religious path. Yousaf was asked why he chose to follow in his father's footsteps despite this trend. Yousaf explained that, in the realm of clerics, there comes a time when they aspire to guide their children on the same spiritual journey. However, he acknowledged that the execution of this intention can be problematic, often leading to rebellion due to stern behavior and pressure. Yousaf attributed his own lack of rebellion to his father's approach, which emphasizes respect for children's choices and decisions.
Regarding the prevailing perception that clerics seek donations, funds, or engage in business ventures, both the host and Yousaf agreed that religious figures face criticism on these fronts. Yousaf expressed his hope for a more positive societal mindset, suggesting that such a shift would alleviate many issues.
Yousaf discussed his Foundation's vision and history, highlighting its goal to provide physical assistance to those in need, complementing prior spiritual assistance of Maulana Tariq Jamil. He noted that while the Foundation is relatively new, the concept and vision behind it date back four decades.
Addressing recent social media criticism surrounding the foundation's involvement with a housing society and rumors of substantial earnings from the venture, Yousaf clarified that these statements are untrue. He also discussed the impact of social media, which, while revolutionary, has led people to accept information uncritically without fact-checking.
The criticism faced by the foundation online had an effect on his health, although Yousaf revealed that the cleric successfully observes Ramadan without health complications disrupting his fasting or Taraweeh prayers, fully enjoying the holy month.
The conversation then transitioned to a candid discussion about Yousaf's personal life. He disclosed that their family consists of five siblings—three brothers and two sisters. Yousaf shared that his foundation never coerced any of his children into becoming clerics; they each made their own choices. Yousaf pursued his father's path, his younger brother is involved in industry, and the youngest is pursuing a career in business.
Yousaf humorously recounted that people would often inform their own families, rather than inquire, about his father having four wives. He also revealed that he entered into a love marriage, a decision made independently without external influence, marking the first instance of such a marriage in their family.
Yousaf went on to describe how their Foundation evolved into a recognized brand, diversifying into various fields with success. He emphasized that its services would be accessible to individuals across Pakistan.
Also Read
To stay informed about current events, please like our Facebook page https://www.facebook.com/BOLUrduNews/.
Advertisement
Read More News On
End of Article