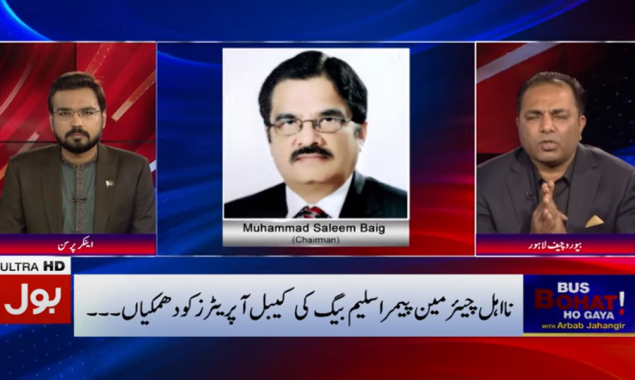 Cable operators are receiving threats from Chairman Pakistan Electronic Media Regulatory Authority (PEMRA) Mirza Saleem Baig. Petitioner Babar Dogar has once again exposed chairman PEMRA.
Petitioner Babar Dogar talked to BOL News show 'Bas Boht Hogaya'. During the conversation, he said that Chairman PEMRA violated High Court's order.
Petitioner Babar Dogar has once again highlighted that Saleem Baig has been illegally appointed. He said that there is a mafia that is using Mirza Saleem Baig as a puppet.
Petitioner Dogar has requested the government to take action against the illegal appointment of Chairman PEMRA and provide justice to BOL News.
Saleem Baig warned cable operators not to air BOL News and BOL Entertainment, he added.
Special Assistant to CM Punjab Firdous Ashiq Awan had earlier assured that BOL News should not face suspensions or bans. During an interview with BOL News show 'Bas Boht Hogaya', she had assured that the government is supporting the channel that stands with the government.
Apart from that, Minister of parliamentary affairs Ali Muhammad Khan had also condemned the injustice by PEMRA.
Advertisement
Read More News On
End of Article