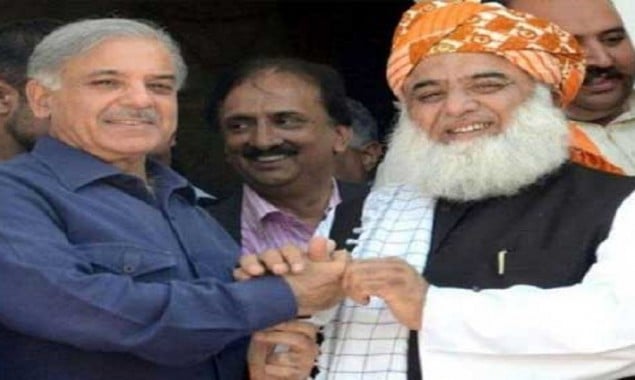 LAHORE: Though the Pakistan Democratic Movement (PDM) is getting ready to flex its muscles in Punjab, primarily through the Pakistan Muslim League-Nawaz (PML-N) with a power show in Faisalabad tomorrow (Saturday), sources have told Bol News that N-League president Shehbaz Sharif is unlikely to attend the rally.
"The PML-N workers are motivated and all geared up to listen to the speech of senior vice president Maryam Nawaz Sharif," a party worker from Dhobi Ghat area told Bol News.
A senior party leader also told Bol News that it is expected that Maryam will deliver another hard-hitting speech in which she would not only target the PM Imran Khan-led PTI government but may also critique state institutions as she had done in the recent past.
Shehbaz's absence
It is interesting to note that Shehbaz Sharif is once again missing from the scene, which has again confirmed that all is not well between the two camps of PML-N (Shehbaz and Maryam camps).
"Shehbaz will not be attending PDM's power show in Faisalabad tomorrow as he is somewhat sure that like the recent past Maryam will make another hard-hitting speech targeting the state institutions that will badly affect his (Shehbaz) and some other senior leaders [chances] to develop and strengthen ties with powerful state institutions," a senior party leader who is close to the opposition leader in the National Assembly confirmed to Bol News.
It is pertinent to mention that JUI-F chief and head of PDM Maulana Fazlur Rehman during a recent meeting in Lahore had requested the PML-N president to personally attend PDM's power show in Faisalabad on October 16.
"He (Shehbaz) has made an excuse that he is not feeling well and having backache but actually he doesn't want to be seen on the stage where his niece is expected to … bash state institutions, which is definitely not his (Shehbaz camp's) narrative which is more in favour of reconciliation with institutions," a senior leader told Bol News.
"Shehbaz strongly believes that Maryam and her narrative is badly damaging the party which would be a decisive blow to PML-N in the upcoming elections," a party leader added.
Sources added that Shehbaz has informed the PDM head that he is feeling a bit better but will still require more days to fully recover.
"Some party leaders who are close to both camps told Shehbaz Sharif to at least show his presence in PDM's power show through video link at least," party sources said.
"PDM's other parties including JUI-F [are] dependent on PML-N as they have no penetration or presence in Punjab and especially Faisalabad which is a stronghold of PML-N so they are completely dependent on PML-N and even the success or failure of PDM's power show will be because of PML-N," a senior PDM leader told Bol News.
Advertisement
Read More News On
End of Article