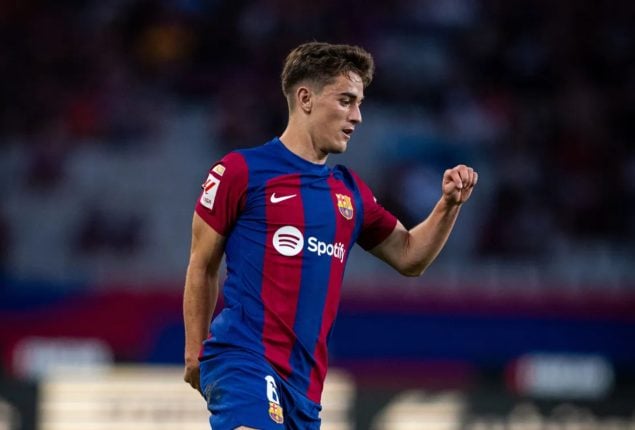 Barcelona's Gavi sidelined 7-9 months, torn ACL in Spain's win.
Gavi's non-crucial match play irks Barcelona, sparks friction with Spain's Federation.
Gavi's ACL injury poses tough comeback, Barcelona uncertain about his return.
In a shocking turn of events, FC Barcelona's rising star, Gavi, has been dealt a devastating blow as he suffered a torn Anterior Cruciate Ligament (ACL) during Spain's 3-1 victory against Georgia on Sunday, November 19. The 19-year-old midfielder is now facing a lengthy spell on the sidelines, with an estimated recovery time of 7-9 months, leaving both Barcelona and the player in a state of despair.
The injury has ignited tensions between Barcelona and the Royal Spanish Football Federation (RFEF), with the Catalan club expressing frustration and fury towards Spain's manager, Luis de la Fuente. According to reports from Mundo Deportivo, Barcelona is questioning the decision to field Gavi in a match that held little significance for Spain, as they had already secured qualification for the Euros.
"It is a very difficult moment for Gavi, Barcelona, the national team, and for me, it seems as if we have lost the game," lamented Spain coach Luis de la Fuente during a news conference. "This is the ugly part of football. I am very sorry. Let's wait for the tests to confirm the extent of the injury. This is the most bitter victory I have ever experienced in my life."
Barcelona, while set to receive compensation of €4-5 million from FIFA, is grappling with the harsh reality that their promising midfielder will be sidelined for the entire season. The financial compensation, though desperately needed, pales in comparison to the loss of one of their key players.
The severity of an ACL injury, especially for young players, is highlighted by the struggles of past footballers who faced similar setbacks. In 2014, Real Madrid's Jese Rodriguez, often hailed as "The Next Ronaldo," suffered a complete ACL tear, sidelining him for nine months. Despite being a prolific scorer and a highly touted prospect, Jese's career trajectory changed significantly post-surgery, and he now finds himself playing for the Italian club Coritiba at the age of 30.
An ACL injury is notorious for its impact on a player's speed and knee movement, particularly affecting the performance of midfielders and forwards. The road to recovery is fraught with challenges, and Gavi now faces an uphill battle to reclaim his spot as one of the most promising talents in football.
Also Read
To stay informed about current events, please like our Facebook page https://www.facebook.com/BOLUrduNews/.
Follow us on Twitter https://twitter.com/bolnewsurdu01 and stay updated with the latest news.
Subscribe to our YouTube channel https://bit.ly/3Tv8a3P to watch news from Pakistan and around the world
Advertisement
Read More News On
End of Article
Advertisement
In The Spotlight
Popular from Pakistan
Entertainment
Advertisement