Hrithik Roshan Reacts to Aryan Khan's Bail Denial as 'Truly Sad'
Hrithik Roshan has shown his support for Shah Rukh Khan's son, Aryan Khan, once again. He has described his bail denial as 'truly sad.'
The Narcotics Control Bureau nabbed Aryan on October 3 after their team interrupted an alleged drug party on a cruise ship off the coast of Mumbai. Since then, he's been in jail and has been denied bail by various judges.
Hrithik shared a video interview with Supreme Court attorney Dushyant Dave conducted by journalist Faye D'Souza on Wednesday night.
He expressed his thoughts on the matter, pointing out that the judge hearing the case, Justice Nitim Sambre, has previously granted bail to males found in possession of drugs.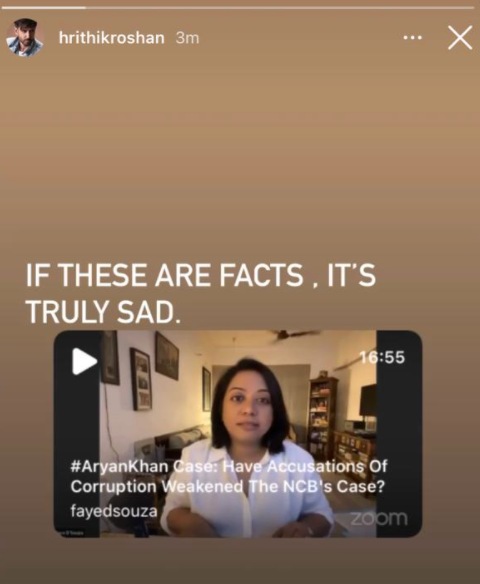 Hrithik Roshan Instagram Stories post.
Sharing the video, Hrithik wrote, "If these are facts. It is truly sad."
Hrithik had previously sent Aryan a long open letter expressing his support. He was one of the very first Bollywood stars to do so.
"My dear Aryan. Life is a strange ride. It's great because it's uncertain. It's great cause it throws you curve balls, but god is kind. He gives only the toughest ones the toughest balls to play. You know you are chosen when amidst the chaos you can feel the pressure to hold your own. And I know you must feel it now. The anger, the confusion, the helplessness. Aaah, the very ingredients that are needed to burn the hero out from inside you. But be wary, those same ingredients could burn away the good stuff… the kindness, the compassion, the love."
Adsence 300X250
---