The Holy month of Ramadan brings along with it many blessings, celebrations and makes us work to enhance our spiritual beauty.
With ongoing celebrations, the TV channels in Pakistan try to bring the Ramadan transmissions to a high level with more and more celebrities becoming a part of them.
This also results in easy approaching of celebrities for their fans who also get to know that how their favourite star spends the holy month.
Whilst the ongoing Coronvirus outbreak in the country, the TV Channels took everyone by surprise and decided to host the shows where they will not be gathering the live audience and only a few celebrities everyday will get to make appearances.
The TV audience enjoy seeing their favorite celebrities during the month  of Ramadan wearing gorgeous and elegant outfits.
Ramadan is the time when everyone gets to wear the beautiful ethnic dresses and display the beauty of the traditional Pakistani dresses.
The celebrities also end up giving a lot of inspiration for the Eid outfit to the public and fans.
Have a look at some of the beautiful dresses worn by our favourite celebrities during Ramadan transmissions.
Aiman Khan wearing Emerald Green Pishwas 
Aiman Khan wore an elegant emerald colored green pishwas. It complimented her complexion a lot.  The bustier has a dull gold embroidery and the border of the shirt has a jamawar finishing. The dupatta has splattered sequins which add a little more color to the overall dress. Aiman Khan kept her makeup minimal and carried a simple side braided hairstyle.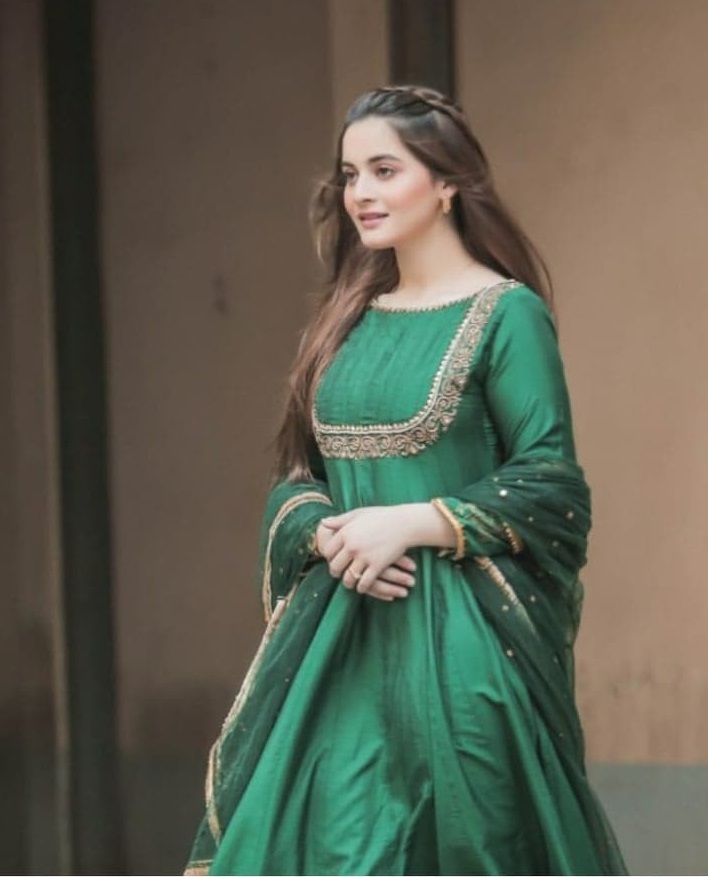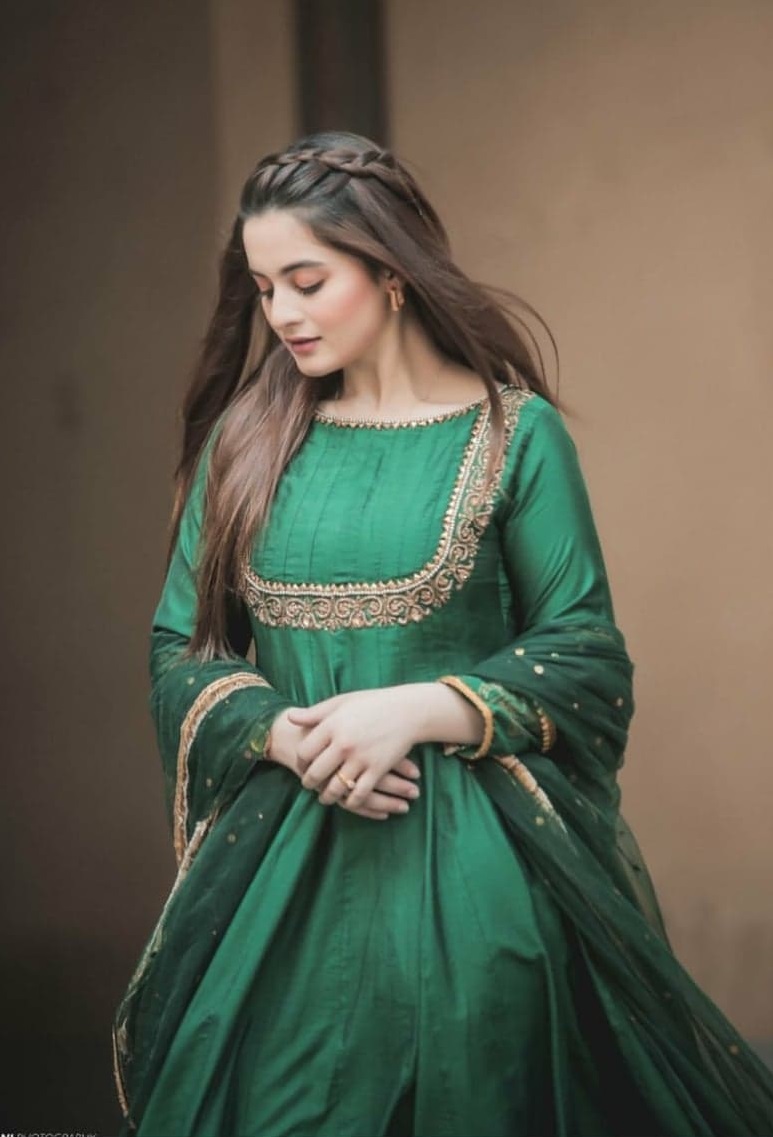 Sea Green Shalwar Kameez of Kubra Khan
Kubra Khan showed up in game show donned a simple solid colored Shalwar Kameez. It was a beautiful sea green shalwar kameez that had silver lace finishing on the shirt and the sleeves. She also wore dangling earrings and used them to enhance her stunning look. She too wore a simple nude pair of heels to go with this dress.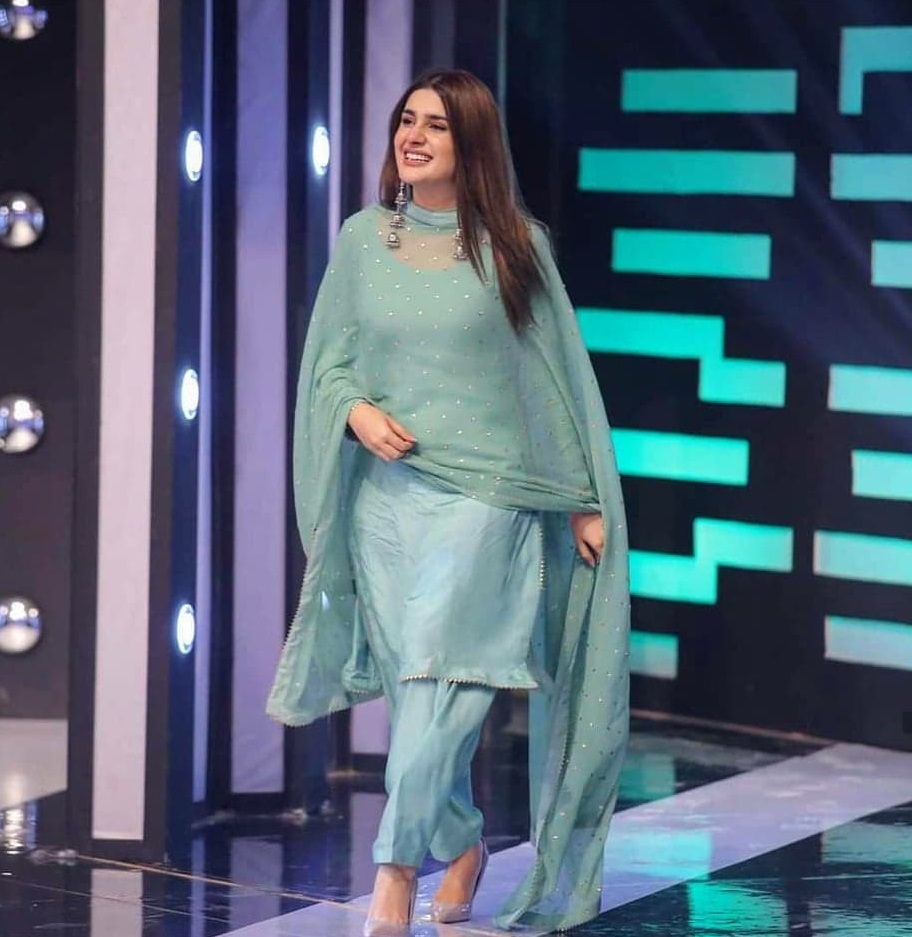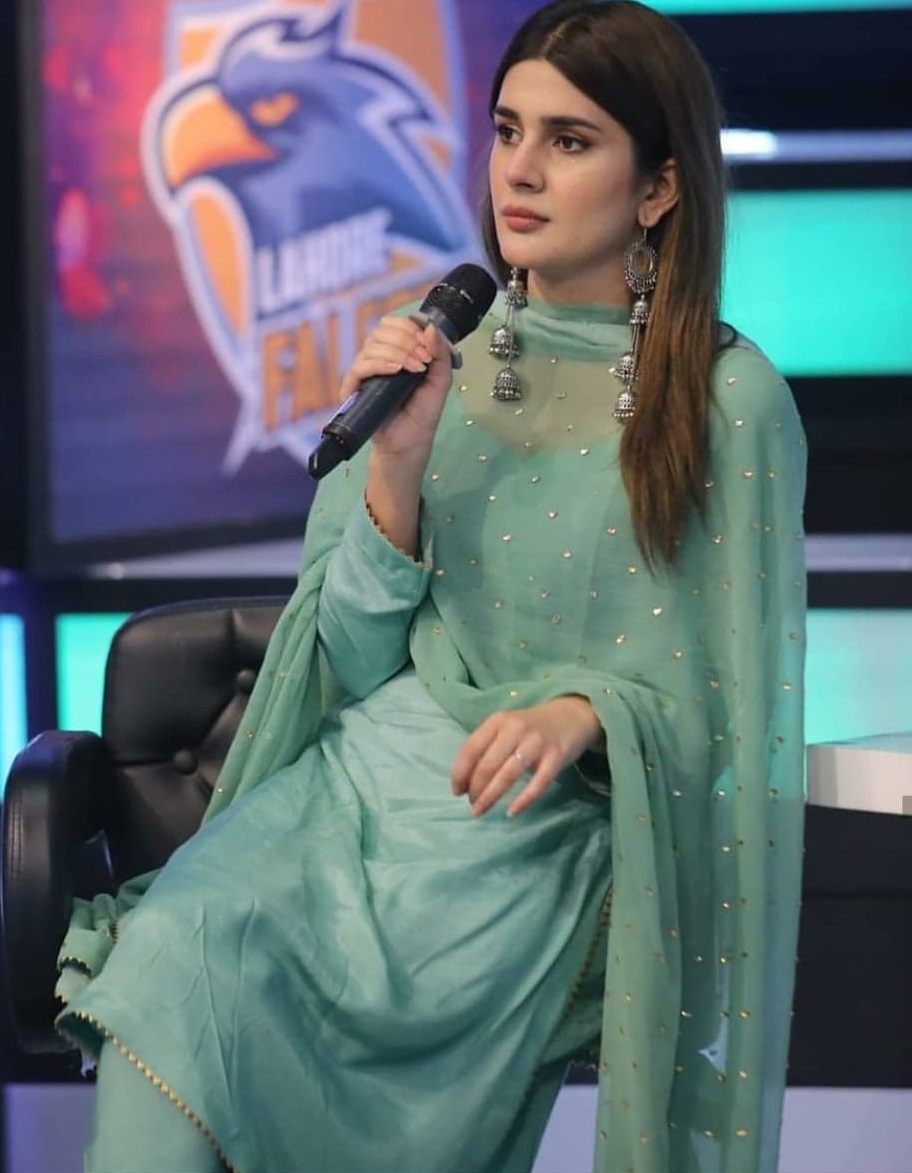 Green Sharara of Zara Noor Abbas
Zara Noor Abbas looked stunning as she wore this green shirt sharara when she appeared on a Ramadan transmission. This beautiful shade of green complimented her skintone a lot. She kept her styling minimal with wavy strands contouring her face and a pair of earrings. The dress was a sharara and a tissue dupatta with a short shirt which was embellished with silver sequin work.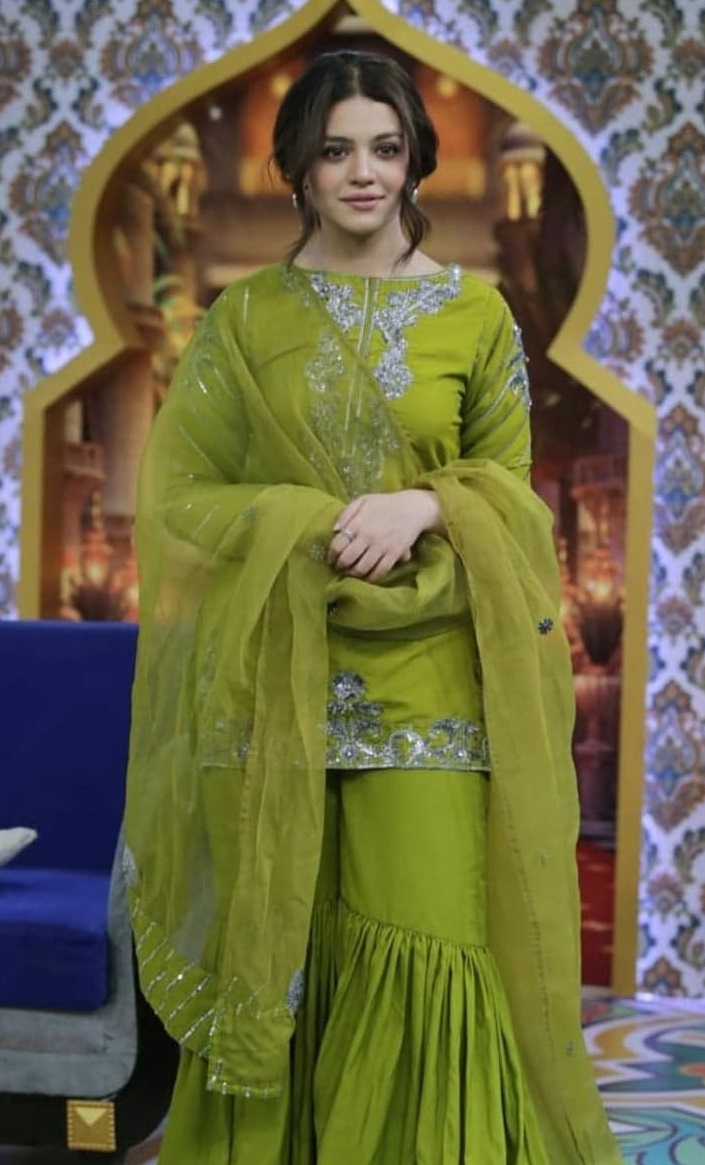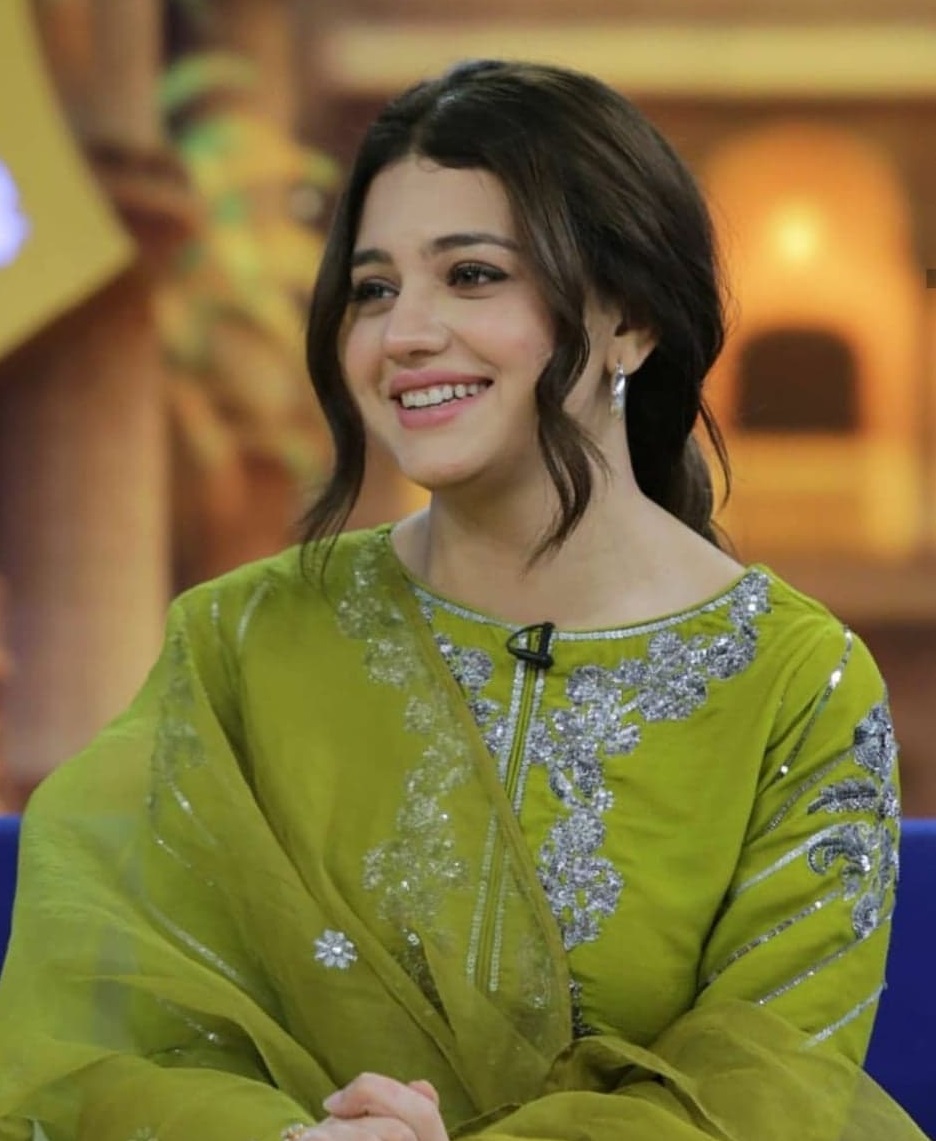 Neelum Muneer wearing elegant Mukesh Frock
Neelam Munir wore a simple and beautiful white frock while making appearance on a Ramadan transmissions. A beautiful white flared dress with mukesh work all over the sleeves and the bustier of the shirt and laced embroidered border on the shirt. The dupatta also has a lot of patterns and textures which adds more charm and personality to the dress.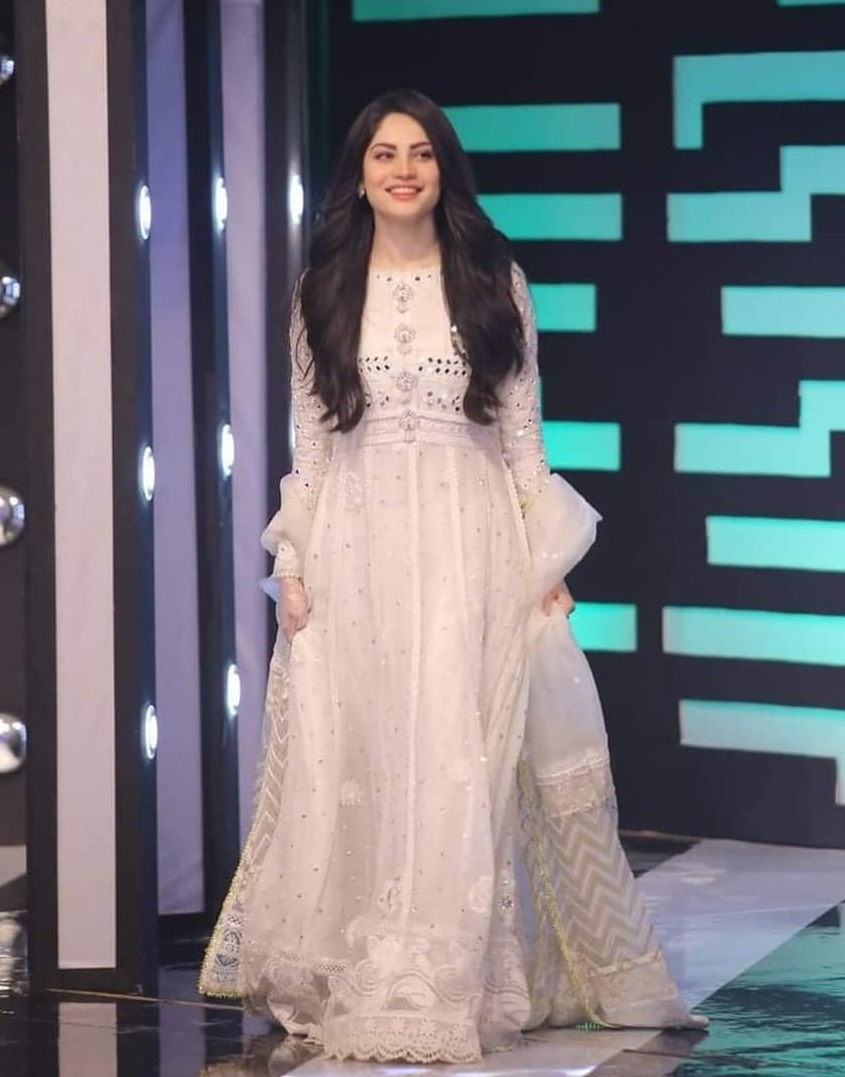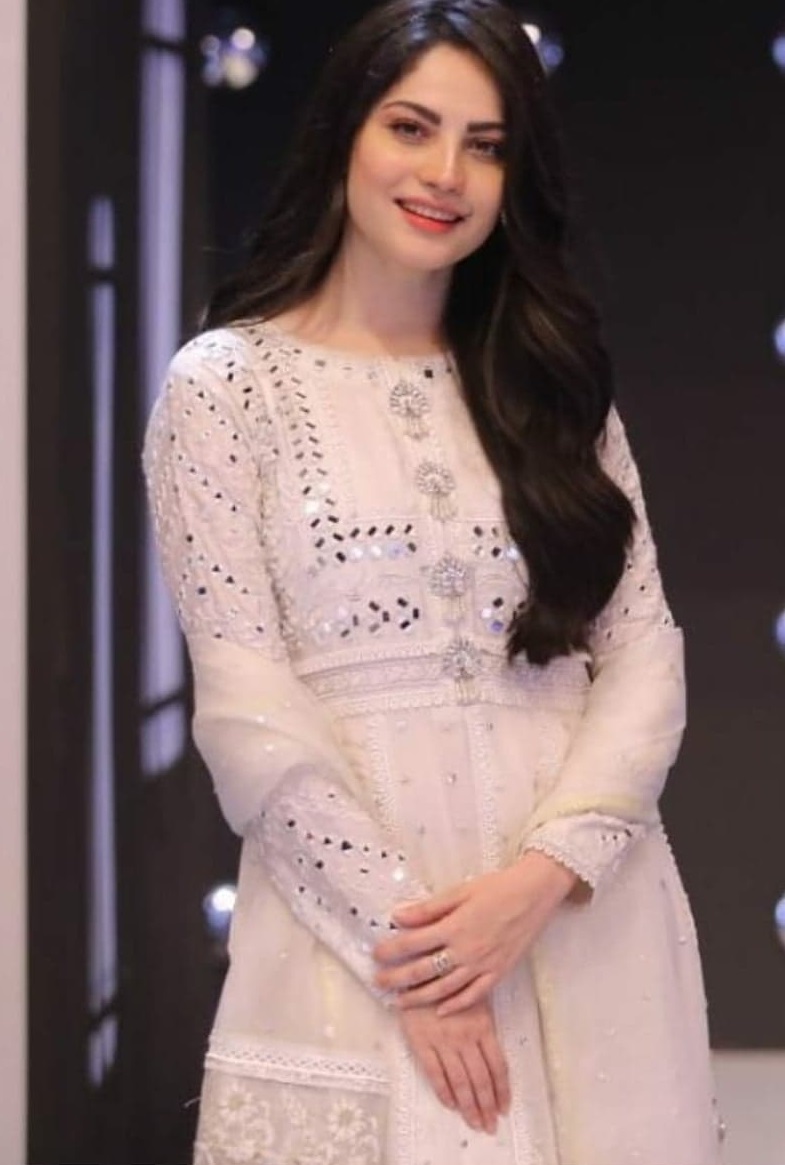 Black Eastern Frock of Ayeza Khan
Ayeza Khanmade quite a statement in this black pishwas that she wore to make an appearance on a show. It was a solid colored dress with gorgeous multi colored borders on the bottom of the flared shirt. Ayeza Khan styled it with a belt which also allowed her to hold the dupatta. Ayeza Khan keeps a natural makeup look with a necklace to complete the look.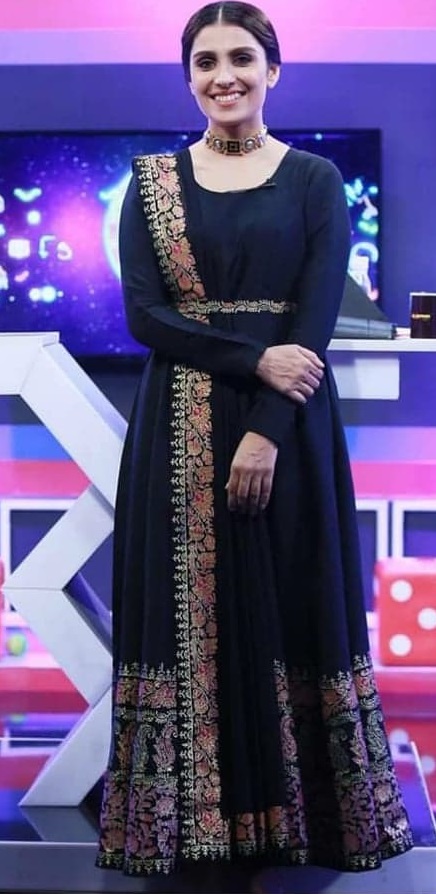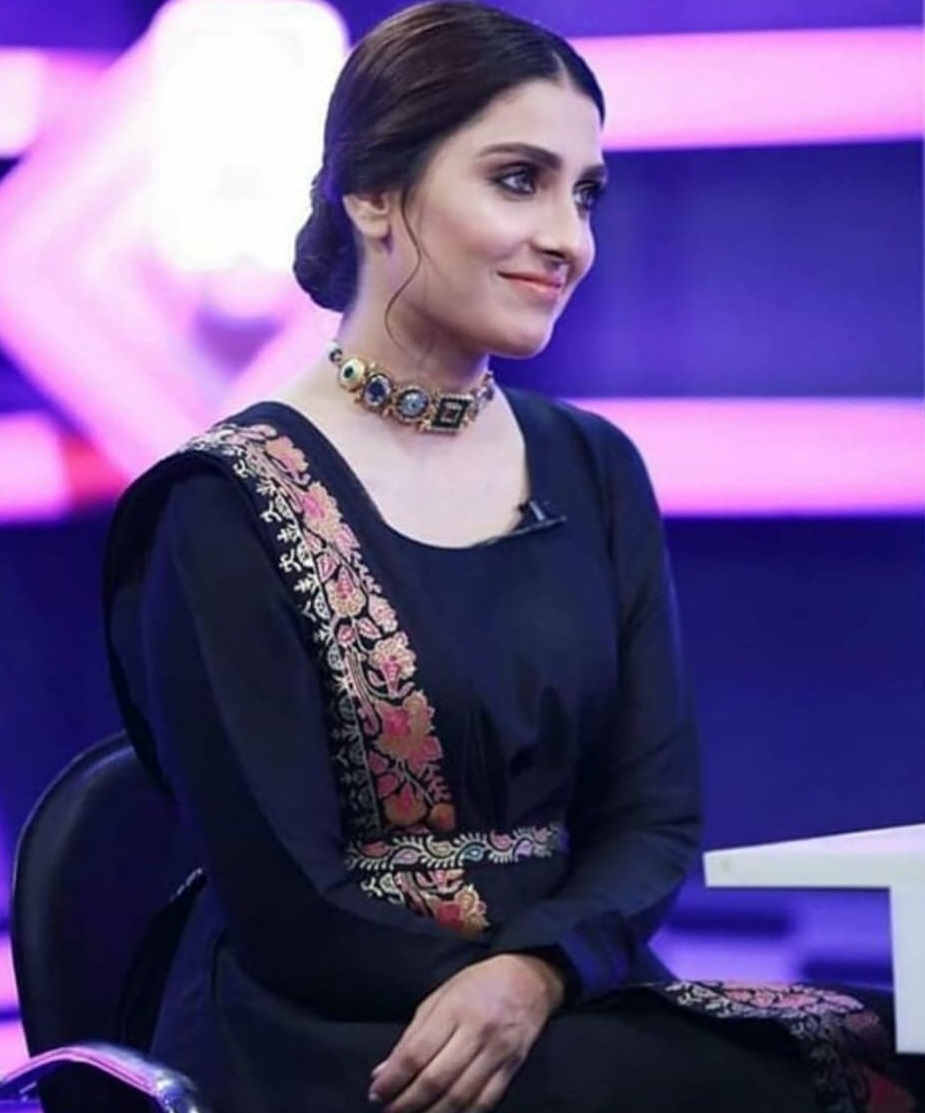 White and Blue Pishwas of Sana Javed
Sana Javed looked ethereal in this simple pishwas. The frock has a crop waistcoat. The simple color theme of white and blue is fresh and summer appropriate. It follows the pattern of block print around the border of the dupatta, sleeves and the border of the shirt.