Sanam Jung expresses outrage over the horrific incident at Minar-e-Pakistan
Sanam Jang, the host, and actress of the Pakistan Showbiz Industry, has expressed her indignation over the horrific incident of assaulting a woman in Minar-e-Pakistan.
Actress Sanam Jung has expressed her grief and anger over the Minar-e-Pakistan incident on her Insta Story, saying that it is a very disgusting incident.
Sanam said that the incident was so disappointing and horrific that women were being publicly harassed.
"Is this what your mothers taught you?" she asked. Is this what your religion taught you?"
The actress wrote in her Insta Story that "We only speak of religion when it comes to women's clothes, and what about these perverts?"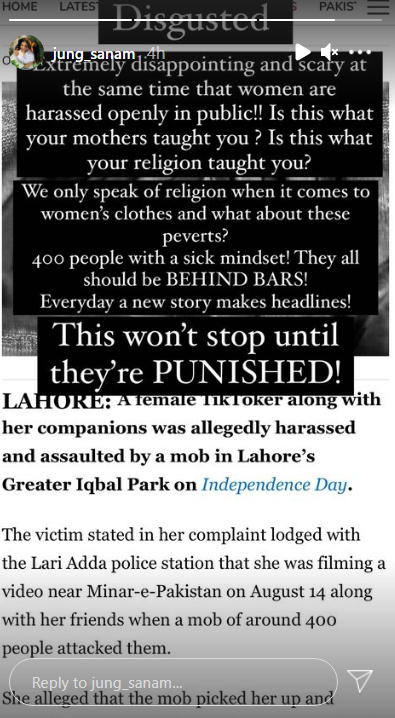 She added that "all these 400 mentally ill people should be behind bars, every day a new story makes headlines."
The actress said that "all this will not stop until they are punished."
It should be noted that the horrific incident of assaulting a woman TikToker on the occasion of Independence Day in Greater Iqbal Park of Lahore came to light through social media 3 days later.
The 400 people beat Ayesha Akram and her accomplices and tore their clothes while the police remained unaware of the incident.
A case has been registered against 400 unidentified accused at the request of the woman but no conviction has been handed down yet.
Also Read
Adsence 300X250
---