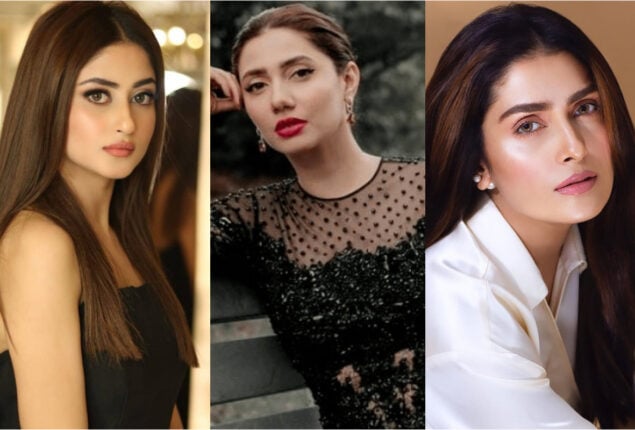 With their enthusiasm, charisma, and good looks, the icons have formed themselves in the industry, both nationally and internationally.
Instagram is the most popular social media platform overall because celebrities use it more frequently than any other app. It is widely acknowledged that social media has significantly boosted their fame and careers.
Technology has made it much simpler to connect with celebrities and to peek into their private lives on Instagram.
Based on the quantity of followers they have, celebrity Instagram accounts also give us a sense of how well-liked they are.
Ayeza Khan.
The Chupke Chupke diva is the most popular celebrity in the nation, with 12.3 million fans, according to a recent survey.
Notably, her popularity and these numbers were actually increased by her role in the legendary drama Mere Paas Tum Ho.
Aiman Khan.
With 10.8 million Instagram followers, Aiman Muneeb ranks second among celebrities, and he was included in Forbes' list of the top 100 digital stars.
Mahira Khan.
Mahira Khan, a celebrity with 9.6 million fans, is regarded as one of the most naturally talented actresses. She frequently posts photos of herself without makeup online, but the Humsafar actress is not very active there.
Minal Khan.
With 9.5 million followers, Minal Khan is well known for being very open with them and sharing even the most minute details.
She frequently makes news for her reckless behaviour, and she most recently made headlines when she was called out for stealing Kylie Jenner's fruit platter Instagram story.
Sajal Aly.
On Instagram, Sajal Aly has 9.1 million followers. The diva is regarded as one of the most important figures in show business and has worked with renowned actors extensively in both India and Pakistan.
Atif Aslam.
The most popular singer in Pakistan, Atif Aslam is a global superstar. On Instagram, the legendary crooner has 6.8 million followers, including admirers from India and the Gulf.
Advertisement
Read More News On
End of Article