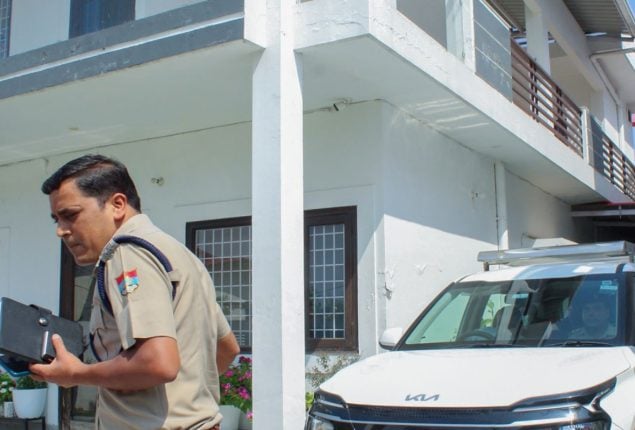 India conducts raids against alleged Sikh separatist links in seven states and union territories.
The NIA seizes weapons and digital devices during these operations.
Some detainees are suspected of ties to "pro-Khalistan" groups.
India's anti-terrorism agency has conducted raids at 53 locations in seven states and union territories, targeting individuals it claims are "terrorists" and "gangsters," some of whom allegedly have connections to Sikh separatist organizations.
The National Investigative Agency (NIA) announced on Wednesday that it had confiscated firearms, ammunition, and numerous digital devices during these operations.
Among the detained individuals, the NIA suspects several of having affiliations with "pro-Khalistan" groups.
The term "Khalistan" refers to a separatist movement that aims to establish an independent Sikh homeland in the Punjab region of India.
This development coincides with India's ongoing diplomatic tension with Canada, sparked by Canadian Prime Minister Justin Trudeau's accusations that India might be involved in the murder of Hardeep Singh Nijjar, a Sikh Canadian who advocated for Khalistan and was killed in British Columbia.
India has vehemently denied Trudeau's allegations and has previously accused Nijjar of being a terrorist with ties to the Khalistan movement and of attempting to radicalize the Sikh community worldwide.
Additionally, India has long accused various foreign nations of sheltering individuals it characterizes as Sikh militants within their diaspora communities.
The NIA said Wednesday the latest raids "relate to conspiracies of targeted killings, terror funding of pro-Khalistan outfits, extortion, etc. by the gangsters, many of whom are lodged in various jails or are operating from various foreign countries, including Pakistan, Canada, Malaysia, Portugal, and Australia."
"Many of the criminals and gangsters who were earlier leading gangs in India have fled abroad in recent years and are now pursuing their terror and violence-related activities from there, as per NIA investigations," the statement said.
"These criminals have been engaged in planning and commissioning serious crimes, including contract and revenge killings, in association with criminals lodged in jails across India," it added.
The operation covered a wide geographical area, encompassing the states of Punjab, Haryana, Uttar Pradesh, Rajasthan, and Uttarakhand, as well as the union territories of Delhi and Chandigarh.
India has strongly reacted to Trudeau's allegations, leading to a worsening dispute that has resulted in both countries expelling high-ranking diplomats in a tit-for-tat response.
This escalating situation has the potential to strain the relationship between important partners of the United States.
Tensions escalated even further when India suspended visa services for Canadian nationals, citing concerns of "security threats" against its diplomats in Canada.
Though Modi is yet to speak publicly about the growing dispute, Indian authorities last week announced an "intensified crackdown" on what it says is a "Khalistani terrorist campaign."
Last week, the NIA promised a cash reward for five individuals who they accuse of "spreading terror" in the state of Punjab.
Also Read
Advertisement
Read More News On
End of Article