The Sindh Home Department has changed business hours in the province.
According to the new order issued on May 10 order, the Home Department of Sindh has been slightly changed the business hours and now business will be allowed to open in the province from 6 am to 4 pm instead of 8 am to 4 pm.
Similarly, the movement of people will be restricted from 5 pm to 6 am instead of 5 pm to 8 am.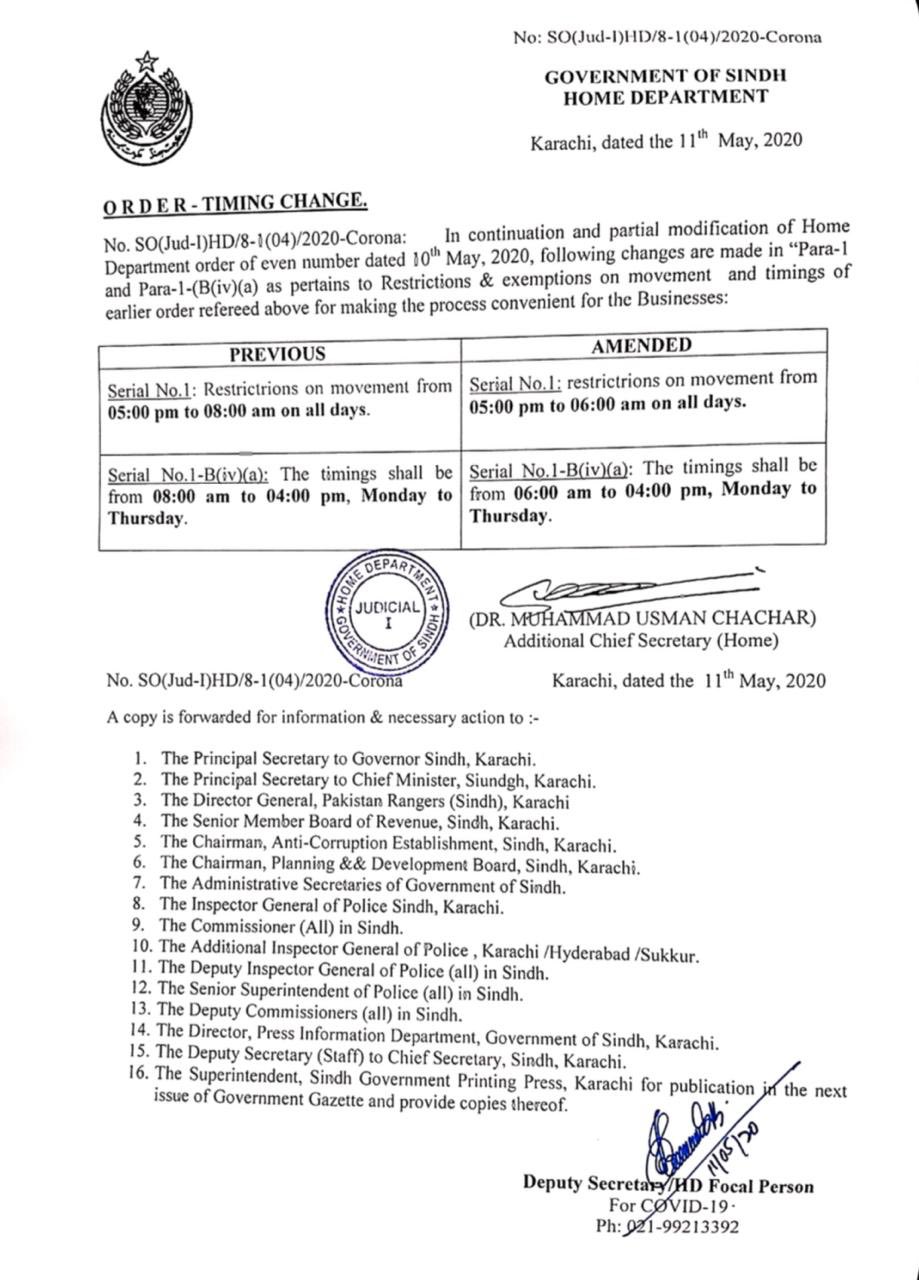 On the other hand, the Department of Services, General Administration and Coordination has also announced to open secretariat offices of the following administrative departments with minimum staff from May 12.
Department of Energy
Department of Climate Change and Coastal Development
Chief Minister's Inspection, Inquiry and Implementation Team
Department of Transport and Mass Transit
The National Coordinating Committee met on May 7 to review various issues, including the spread of the coronavirus and the economic impact of the lockdown.
All the provinces, after consultation with the federation, decided to allow certain businesses to open with the condition of strict implementation of SOPs and in this context, the Sindh government  allowed a few businesses to reopen.
The Government of Sindh clarified that the construction industry and its associated manufacturing industry has been allowed to open with the condition of strict implementation of SOPs and the details are given below,
Pipe Mills (PVC and Steel)
Electric cable and switch gear manufacturing
Steel / aluminum manufacturing including rerolling mills
Ceramic manufacturing
Paint factories
Carpentry / Furniture Shops
Real estate
In addition, shops in residential areas have been allowed to open, but shopping malls and plazas will be remain closed.
The Sindh government had made it clear that there would be 100% lockdown on three days a week, Friday, Saturday and Sunday, and these three days would be considered 'safe days'.
During these three days, only medical stores, welfare organizations, courier services, dairy shops, newspaper vendors, medical staff will be allowed to work.
During the three days, some important items including grocery stores, general stores, bakeries, meat, fruit and vegetable shops will get exemption.
The statement said that strict lockdowns and restrictions would be maintained in areas declared dangerous by the health department, commissioner or concerned authorities and shops with non-essential items would not be allowed to open.
According to the Sindh government, the following businesses will be allowed to open from Monday and will be able to operate four days a week from Monday to Thursday from 8 am to 4 pm.
Construction activities and related manufacturing industries
Community Markets
Retail outlets
Shops in Rural areas
Shops in residential areas