Ninety per cent Pakistanis believe respecting army is very important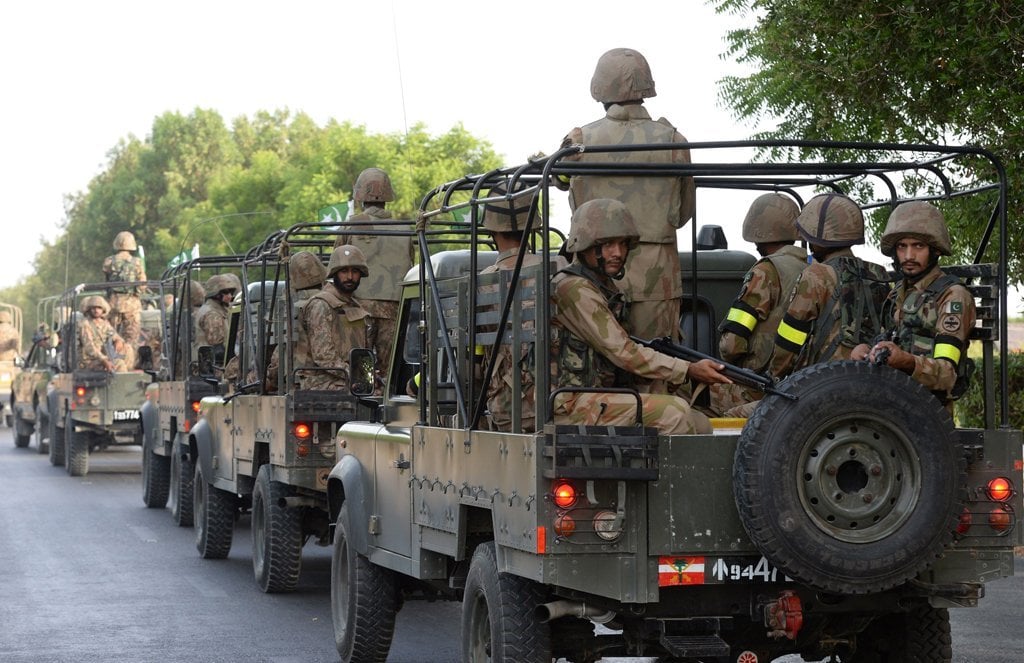 LAHORE. Ninety per cent or 9 out of 10 Pakistanis believe that it is very important to respect the army in order to be a true Pakistani, according to a recent poll conducted by Gallup and Gilani Pakistan.
At the opinion poll on patriotism — released on November 25 – a national representative sample of adult men and women from across the four provinces was asked as to what degree he or she believes respecting the army is necessary to be a true Pakistani.
According to Gallup Pakistan, in response to this question, 90% people said it is very important; 7% said it is somewhat important; 1% said it is of very little importance while another 1% people said it is not important at all. One percent did not know the answer or provided no response.
Interestingly, slightly more rural respondents (92%) felt that it is very important to respect the army in order to be a true Pakistani as compared to urban respondents (87%).
Read more: 'Battle hardened' Pakistan Army ready to 'defend motherland at all costs', says Gen Bajwa
The study was released by Gilani Research Foundation and carried out by Gallup and Gilani Pakistan. The recent survey was conducted using a sample of 1,730 men and women in urban and rural areas of all four provinces of the country from September 23, 2021 to October 8, 2021.
According to Gallup Pakistan the error margin was estimated to be approximately ± 2-3 percent at the 95% confidence level. The methodology used for data collection was CATI.
Talking to Bol News with regard to the poll, analyst Imtiaz Gul said if it was a representative survey then it obviously reflects public sentiment and hence people at large should keep this in mind when judging the armed forces. Foul-mouthing or casting aspersions on any state institution is bad anyway.
Dr Maria Sultan, a leading defence analyst and South Asian Strategic Stability Institute University (SASSI) director general, said the armed forces are the backbone of the country's defence and the survey reflects the fact that it is a truly representative organisation that will stand for the people.
"Hence the faith in the institution is the reflection of this expectation that the armed forces represent a commitment to the country's and people's interest in line with our strategic culture," she said.
Agreeing with them, senior defence analyst Lt Gen (retd) Ghulam Mustafa said a very important thing about Pakistan which people forget is the relationship of the armed forces with its masses.
For him, firstly, one thing which cannot be denied is that every fourth or fifth Pakistani is related to the army one way or another directly or indirectly. Either his brother, sister or relative is part of the army because they are aware of what the army is doing for them, he said.
Read more: Lt Gen Nigar Johar's appointment as AMC col commandant 'matter of pride', says COAS
"On the other hand, the army, about which it is said that they are spending a lot of money, also knows how they are doing gigantic tasks in such a limited budget.
"Secondly, this relationship of masses and the armed forces should be seen from another perspective as well that if one brother is a general or lieutenant general his brother could be a sepoy which speaks volumes about the merit of this institution as in the army the sons of sepoys can also reach the rank of general which is not possible in any other department or institution of this country.
"Even the masses are aware that in the army if a father is a general it is no guarantee that his son or daughter will also become a general. Due to all of these reasons the masses have a huge amount of respect for the armed forces," he said.
Lt Gen Mustafa said common people usually cannot imagine how strong is the relationship between the army's leadership and its rank and file.
"We all come from the same stock and there are no differences.  An army chief spends time with the junior most officers as well whereas in the army the junior most officers could also speak freely to a general," he added.  He said people also respect the army because during wars the Pakistan Army's leadership and troops have always led from the front.
Analyst and TV host Dr Fiza Akbar Khan said she completely endorses this survey, which, according to her, truly represented the sentiments of the public for its brave armed forces.
Read more: Self-reliance in defence production hallmark of any country, says COAS
"The people of Pakistan immensely love their armed forces and respect them a lot which is actually depicted by this recent poll," Dr Akbar. "The masses are indebted to the bravery and sacrifice our forces have made in protecting the borders of our country and securing their lives."
She said the masses have immense respect for the armed forces because they are aware of the sacrifices they have made for the general public.
"Due to which they believe it is very important to respect the army in order to be a true Pakistani as they know that our armed forces are the epitome of bravery, loyalty, patriotism and courage." She said some people, including journalists, who spew venom at our armed forces are nothing less than traitors.
"When they falsely accuse our army of political interference, our enemy (India) uses these accusations in its favour. But when we call them traitors for accusing our patriotic forces, they get offended."
Read more: Islamabad 'values its relations' with EU, Gen Qamar Javed Bajwa tells envoy
Defence analyst Brigadier (retd) Raashid Wali Janjua said like all institutions the army should be respected, adding that the army earns respect both through its battlefield performance as well as peacetime contributions to national emergencies.
"Besides an army, especially its leadership, has to set a very high standard of personal probity and integrity which might act as a beacon for a population looking for role models," he added.
---