Is Jahangir Tareen Quitting PTI And Joining PPP?
Pakistan Peoples Party leader and Sindh Province Minister for Women Development Syeda Shehla Raza has claimed that Jahangir Tareen can leave PTI and join PPP.
Shehla Raza said in a Tweet that Jahangir Tareen has met Makhdoom Ahmed Mahmood and will meet former President Asif Ali Zardari in Karachi next week.
She further said that it was believed that Jahangir Tareen would leave the PTI and join the PPP along with his associates in this meeting.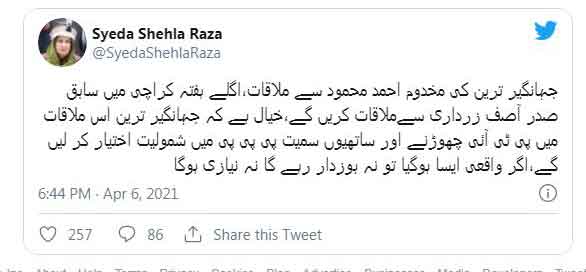 On the other hand, Jahangir Tareen rejected the claim of PPP Leader Shehla Raza and said that there is constant propaganda against me in the media.
"There is no truth in the news of meeting and joining PPP leadership adding that those who spread fake news against me will be disappointed," said Jahangir Tareen.
It may be recalled that PTI leader Jahangir Tareen and his son Ali Tareen have once again been summoned by the Federal Investigation Agency.
According to the notice issued by the FIA, Ali Tareen along with his father committed fraud with the shareholders. Ali Tareen sold the sugarcane business at a fixed price of Rs 4.85 billion.
A notice further stated that the transaction benefited Jahangir Tareen's family at the cost of a shareholder.
In the notice, the FIA ​​asked Ali Tareen why JKFSL sold the sugar business.
The FIA ​​also directed Ali Tareen to bring answers to 5 questions.
It should be noted that Jahangir Tareen and Ali Tareen are accused of financial fraud of Rs 3 billion. Jahangir Tareen transferred Rs 3 billion from the GDW company to his son-in-law's factory and the money sent to the factory was later transferred to the family members' accounts.
The FIA ​​Lahore has also registered a case against Rana Naseem, a close associate of Jahangir Tareen, who is accused of embezzling sugarcane. Rana Naseem was working in the company of Jahangir Tareen as Chief Financial Officer.
The FIA ​​has said in the FIR that more than Rs 3 billion was laundered by investing money in the closed factory. CEO OJDW transferred Rs 3.14 billion to the closed company through forgery.
The FIR also alleges sugar hoarding, fraud and embezzlement, saying that Jahangir Tareen transferred money to a closed company for his own and his family's personal gain.
Earlier, a Lahore local court had granted bail to PTI central leader Jahangir Tareen till April 10.
The Lahore local court granted bail to Jahangir Tareen till April 10, while the banking court granted bail to Jahangir Tareen and Ali Tareen till April 7. The Bangkok court had ordered Jahangir Tareen and Ali Tareen to submit bonds of Rs 500,000.
Jahangir Tareen had approached the Sessions Court for pre-arrest bail. A case of alleged financial fraud has been registered against Jahangir Tareen and Ali Tareen. The case against Jahangir Tareen and Ali Tareen has been registered by the FIA.
Speaking to media on the occasion of his appearance in the court, Jahangir Tareen had said that the allegations leveled against him and Ali Tareen were baseless while he was clear and transparent in financial matters.
"We have a complete money trail of assets. It's not my habit to disassociate with anything," he said.
Adsence 300X250
---