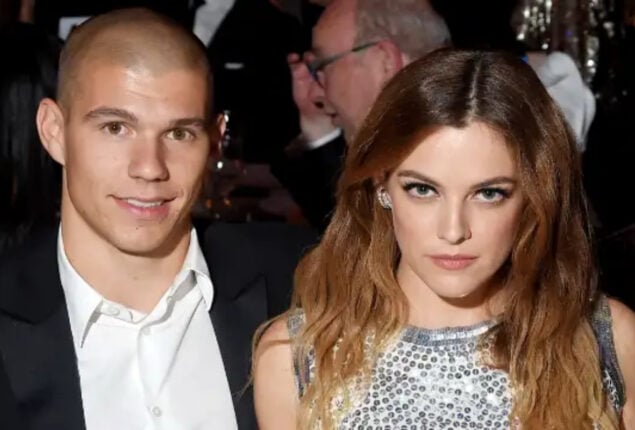 Riley Keough and Ben Smith-Petersen were observed leaving Calabasas.
The family appeared to have coordinated colors.
Riley and her grandma Priscilla Presley have been involved in a legal dispute.
Riley Keough went on a rare outing with her husband Ben Smith-Petersen and their little daughter.
According to reports, the family of three was observed in Los Angeles on Friday, March 3, 2023, as they left Calabasas, California's Erewhon Market with some recent purchases.
Ben, 31, cradled their daughter, who was born covertly in 2022 and whose name hasn't been revealed, and used his left arm to carry a paper shopping bag. With her husband of seven years, Riley, 33, sipped on a beverage while holding a box of leftovers.
The family appeared to have coordinated colors. The late Lisa Marie Presley's eldest child wore wide-leg, loose-fitting denim overalls with a white t-shirt underneath and brown loafers. While their kid looked adorable in a blue frock paired with a white jumper, Ben was dressed in blue trousers and a graphic white t-shirt.
Also Read
The first child of the pair is also the 77-year-old Priscilla Presley and Elvis Presley's first great-granddaughter. The stuntman and the Zola actress revealed the birth of their daughter last year when Ben read the eulogy Riley had written for her mother.
"Thank you for showing me that love is the most important thing in this life. I hope I can love my daughter the way you loved me," the heartfelt eulogy read following her mother's services on January 23, 2023.
Keough and her grandma Priscilla have been involved in a legal dispute since she unexpectedly launched a lawsuit over Lisa Marie's bequest shortly after the funeral.
In Los Angeles, Priscilla filed a petition contesting the "authenticity and validity" of a 2016 modification to Lisa Marie's trust that replaced her as co-trustee with Keough.
Also Read
Advertisement
Read More News On
End of Article