A Canadian-run school and real estate firm in North America has sacked an Indian-origin citizen and launched an investigation against him for tweeting hate against Islam and Muslims.
A Canadian man of Indian descent Ravi Hooda, responded to a tweet on April 30 by expressing hatred towards Muslims and Islam spreading hate speech in his response.
He used inappropriate words against Muslims in response to a tweet from the Canadian government regarding allowing Muslims to give Azan (call to prayer)on loudspeakers in the wake of Muslims' holy month of Ramadan.
The Indian-origin man in his tweet predicted possible other permissions after allowing Muslims to call to prayer and wrote " What's next? separate lanes for camel & goats riders, Allowing slaughter of animals at homes in name of sacrifice, Bylaw requiring all women to cover themselves from head to toe in tents to appease the piece of fools for votes."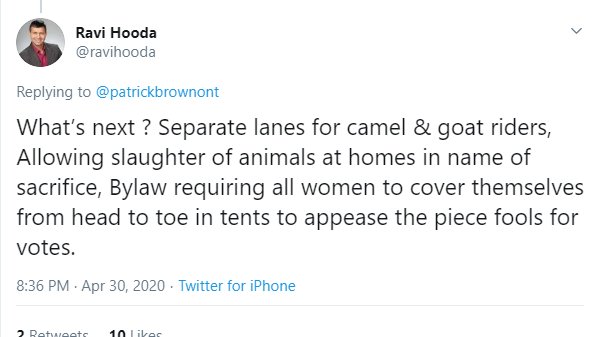 Ravi Hooda's anti-Muslim tweets were criticized by many, with dozens calling for action against him.
Following public outcry, the Peel School Board, a leading school network in Brampton, Canada, said in a social media statement that an Indian-origin man who tweeted anti-Islamic had been fired and an investigation was under way.
Prior to this Ravi hooda retweeted Tarek Fatah advertising a petition against calls to prayer.